Emma and Ross travelled to Tanzania with Yellow Zebra in January 2017.
Nothing can quite prepare you for touching down on sun-baked Kiba airstrip in the heart of the Selous Game Reserve, especially when your mode of transport is a four-seater plane, but that's what this adventure is all about… leaving the daily grind far behind and flying by the seat of your pants!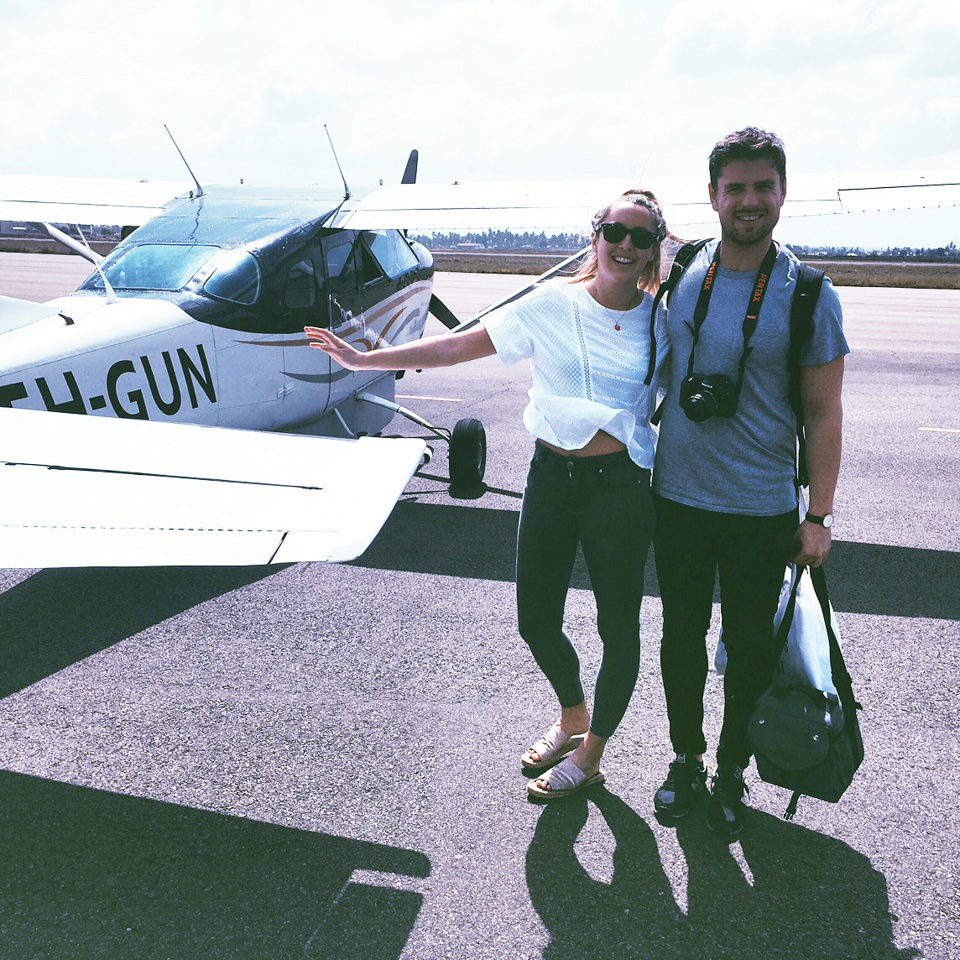 The safari experience starts the minute you hit the ground, where your guide and a ranger from Nomad's Sand Rivers Selous is waiting to whisk you to the camp, pointing out birds and wildlife along the way. Any jet-lag and fatigue disappear instantly in the riot of new sights, sounds and scenery; even the bumpy terrain is a welcome sign that you are now far from civilised tarmac roads and are about to embark on an authentic African adventure.
Arriving at Sand Rivers Selous feels like coming home, albeit a far more luxurious and laid-back version with a free-flowing bar! Highly recommended to us by the fantastic team at Yellow Zebra Safaris, our expectations were already soaring, yet we were totally blown away by what we found. Camp managers Eric and Natasha are the perfect hosts. With just eight open-fronted stone-and-thatched suites, Sand Rivers has a relaxed and informal atmosphere yet 5-star facilities and service all the way. Dinner is a lively family-style affair with ourselves and our fellow guests choosing to eat together, swapping safari stories alfresco over three incredible courses. The style of the lodge is simple yet effortlessly stylish, blending in with the surrounds, but ensuring that absolutely no element of comfort is lost. Deep sunken sofas lend themselves to afternoons spent chatting away to fellow guests or your guide over a refreshing lemonade, whilst framed photos of wild dogs, board games and cosy cushions set the scene.
In prime position on the Rufiji River, what is now Sand Rivers was quite literally stumbled across by 'safari legend' Richard Bonham; straightaway he knew he had found somewhere special. Having spent months crossing Africa by river and walking extensively in the Southern Selous, he had good ground for judgement and knew instantly there was nowhere better to be. As highlighted to us by Yellow Zebra Safaris, it immediately becomes apparent that the position of the camp is instrumental to their being able to offer one of the most diverse safari experiences throughout Africa, combining game drives with walking and boating safaris, fishing expeditions, as well as the opportunity to fly camp, an absolute must.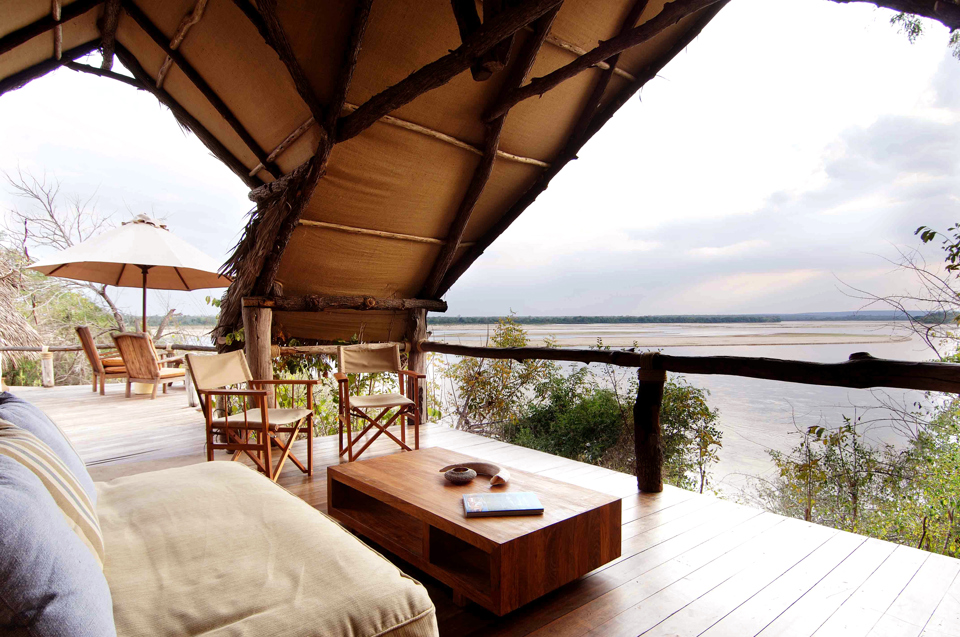 At this point, it's impossible to conceive that things get any better, but the suites are something else! Reached via a meandering path from the main camp, accompanied by a guide at night to avoid any potential lion or hippo encounters, our suite came complete with its own plunge pool, lounge area (to the right in the photo below) and bedroom (to the left) with the most enormous four-poster bed, twin basins, as well as a warm shower where water pours out from a ledge of rock, a real luxury in the bush! This is luxury at its most stripped back, the best kind. Lying in bed or sitting on your private terrace is a safari itself as monkeys swing from the trees around the lodge, hippos wallow and crocodiles circle in the river below, whilst a lioness paid our next-door neighbour a visit in the night to drink from their plunge pool. Far from a scary experience, this was the excited talk of the camp for days!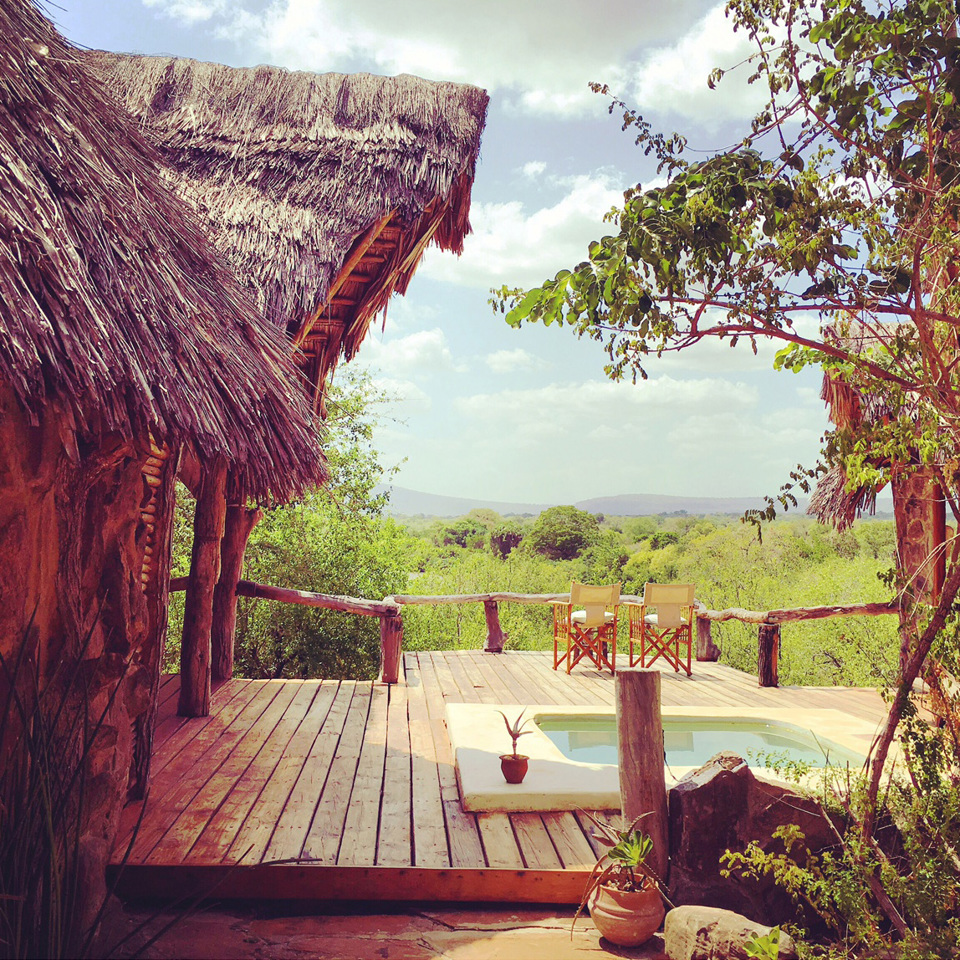 You are immediately transported to a whole new world with a daily routine defined by the great outdoors, rather than meetings and a jam-packed diary. You almost feel the shift in internal gears as your body adjusts to waking at dawn to the harrumphing of hippos as an alarm. The views at sunrise through your open-fronted lodge, enjoyed with tea, coffee and fresh juices, mean that it is far from a rude awakening. We found that the best way to start the day was with a game drive, with brilliant guide Edward, a true expert on Safari Africa, providing a visual and verbal narrative as we explored the Selous. Teeming with wildlife, our safari was action packed from start to finish, almost minute by minute. One morning game drive alone would provide sightings of herds of zebra, giraffes, buffalo, impala, elephants, lions and lionesses, including eight little cubs and on one memorable occasion, a leopard. Edward and our spotter Simba were phenomenal, not only filling us with information about each animal but also its habitat, unusual characteristics and the Lion King-esque circle of life. Did you know that bee-eater birds create nests with a hole to enter and exit so they have a quick escape if a snake calls? Or that sausage trees are loved by elephants for their fruit? And that giraffes, the national animal of Tanzania, give birth standing up to babies that are already taller than most humans? These nuggets are imparted during drives and over incredible breakfasts, set up by Edward to take in the best views over a watering hole. The attention to detail is quite staggering. Fresh fruit, bacon wraps, yogurts and freshly baked goods are produced and spread over a coloured cloth; at Sand Rivers, you simply don't want for anything.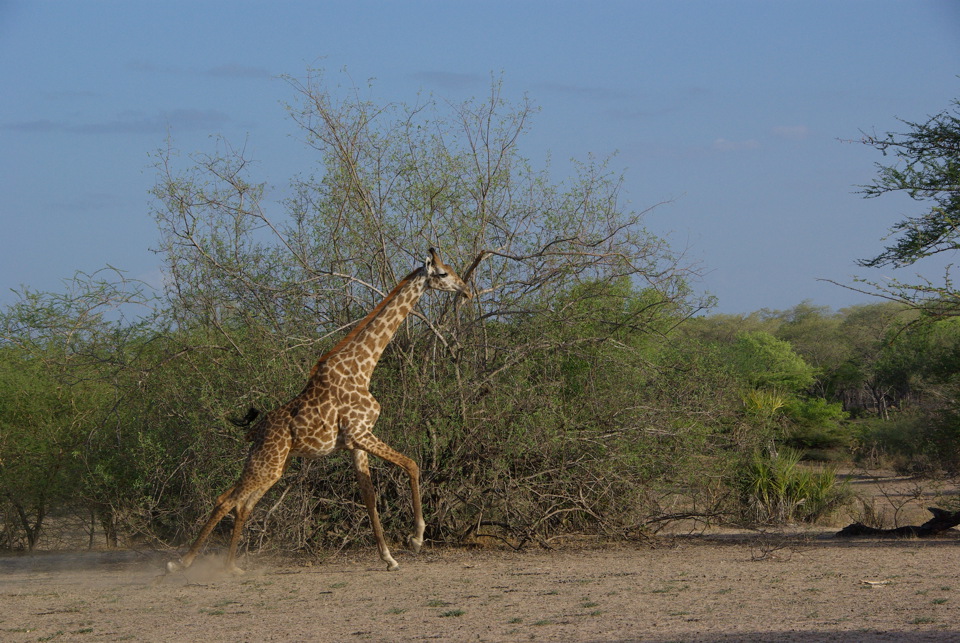 We found that following a delicious lunch of colourful salads bursting with flavours, grilled meats and a sweet treat, and a lazy afternoon spent by the pool reading and revelling in the morning's pursuits, early evening called for some activity and that's where Sand Rivers' diverse activities really made all the difference. Instead of jumping back in the truck, we spent our afternoons exploring the Selous by foot or boat. A walking safari is an amazing way not only to encounter animals at close quarters but also to get to know more about the flora and fauna, insects and eco-system. A two-hour walk with Edward and our spotter Simba took us to a nearby hilltop where sundowners of our favourite Tanzanian tipple, Kilimanjaro beer and Konyagi gin, were enjoyed with gusto whilst quizzing Edward about the life of a guide. I think, at this point, we were ready to pack our bags and don our binoculars for a life spent in the bush!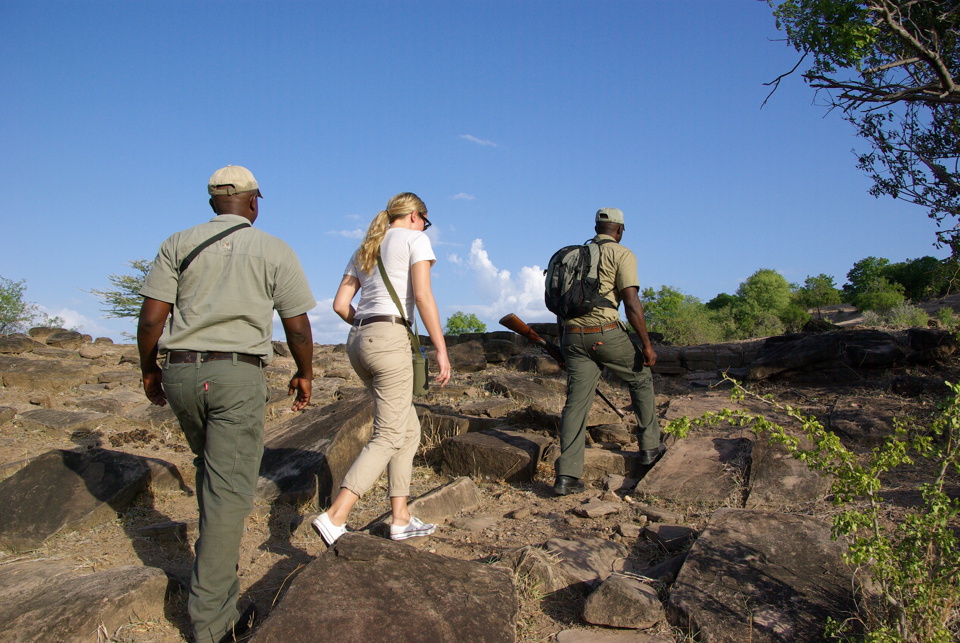 Similarly, a safari by boat is a completely different experience from foot or vehicle excursions. Sand Rivers' position on the Rufiji means that it's famous for its boating excursions, particularly as this is how founder Richard Bonham discovered the location for the camp. Meandering down the river provides plenty of opportunities for close encounters with wildlife, including hippos, young and old alike, elephants, giraffes and lions, who appear quite oblivious to us passing by whilst they drink. The river provides a fantastic vantage point, as well as the chance to stop off on the shore for a spot of fishing! Although we were unlucky, fellow guests returned triumphant one evening and we enjoyed freshly cooked fish goujons as a delicious pre-dinner appetiser, washed down with a cocktail or two.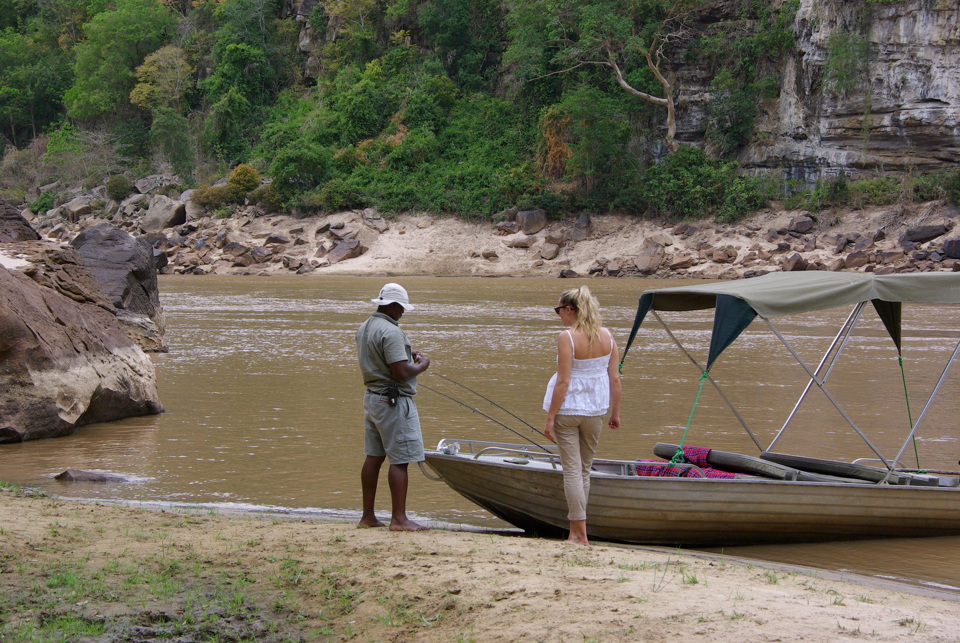 I have, however, saved the best until last: if there is one thing you do whilst at Sand Rivers, it has got to be a night fly camping in the bush! This experience also really hammered home how important it is to have a safari tour operator that you trust and who genuinely cares about you having the best possible time, as Yellow Zebra Safaris does. I was initially reluctant to spend a night out under a mosquito net when I had a luxurious lodge to call home, but on the recommendation (and persuasion!) of Juls at Yellow Zebra, I trusted him and we took the plunge – boy was it worth it! A fly-camping experience starts in the late afternoon with a walking safari, led by Edward and Simba, bringing us down to the water's edge, where the camp awaited. Banish all rainy UK camping experiences from your mind as this is something else entirely. The camp consisted of our bed, a comfortable mattress with crisp linen, blankets and pillows, under a mosquito net, hot bucket shower and even a bathroom station set up with mirrors, toiletries and fresh towels. A delicious dinner, cooked by a Sand Rivers chef, is enjoyed in front of a camp fire with the sun setting in dusty pinks and to a soundtrack of lions roaring in the distance and hippos trudging out of the water to forage for food. Fly camping isn't one bit scary – it's exhilarating and simply magical to sleep under the stars in this extraordinary setting and I can only thank Juls for pushing us into it!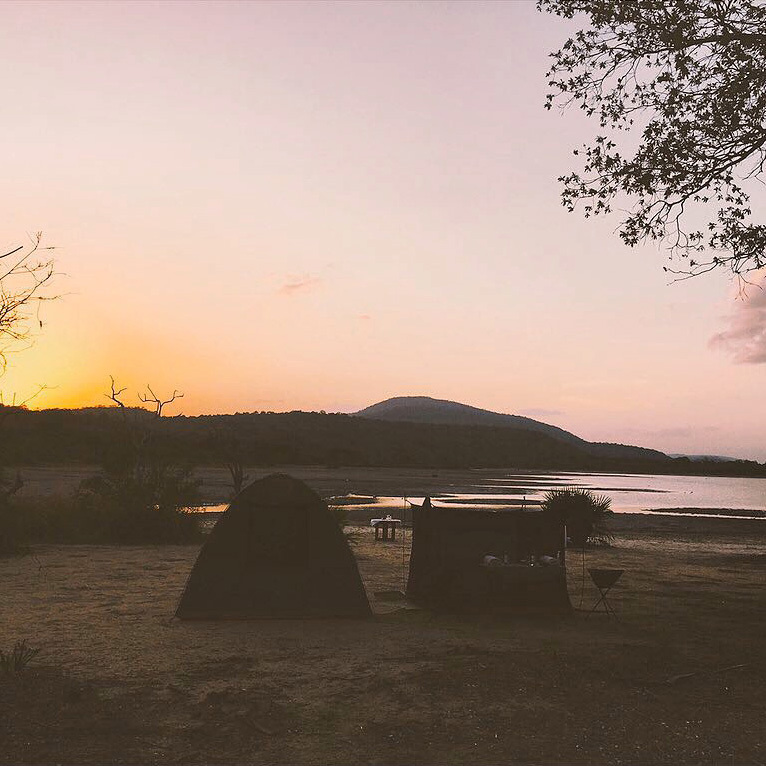 Leaving is hard, I'm not going to sugar coat it! Every cliché expression can be applied to the experience you have on safari and this particularly applies to Sand Rivers Selous, where the company, service, guiding and experiences were absolutely unbeatable. It was every single cliché rolled into one – breath-taking, awe-inspiring, jaw-dropping – and it was gut-wrenchingly sad to leave the place and the people (Eric, Natasha, Edward, Simba and holiday friends Susan, Clive et al.!) behind. With the view below to bid you farewell, it's a bittersweet goodbye.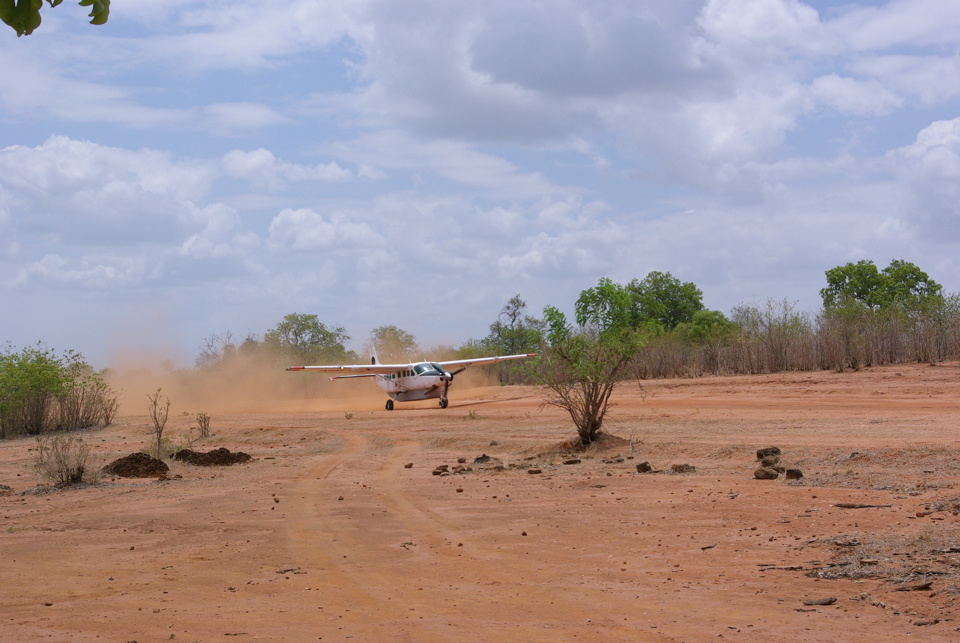 If the thought of returning to reality is too much to bear, which for us it certainly was, a trip to Tanzania provides the perfect opportunity to enjoy the best of the bush and the beach by carrying on to the incredible island of Zanzibar. Here an Indian Ocean idyll awaits, with white-sand beaches, shockingly blue waters and the chance to experience Africa alongside locals.
Inspired? View our Tanzania safaris.