We've heard about a day on safari from a guide's perspective and from one of our team's perspective, but we wanted to hear from a client's perspective. Julian's recent client Rona Higgins has guest blogged for us, talking about a day on her recent trip to Botswana, where she was staying at Little Kwara. All the photos were taken by Rona herself.
5:30am - A great night's sleep, thanks to the hot water bottle ('bushbaby') and a lack of serenading hippos that had been outside my room at our previous camp, Lagoon Camp. It was still dark, when a voice from outside cheerily shouted, 'Good Morning!'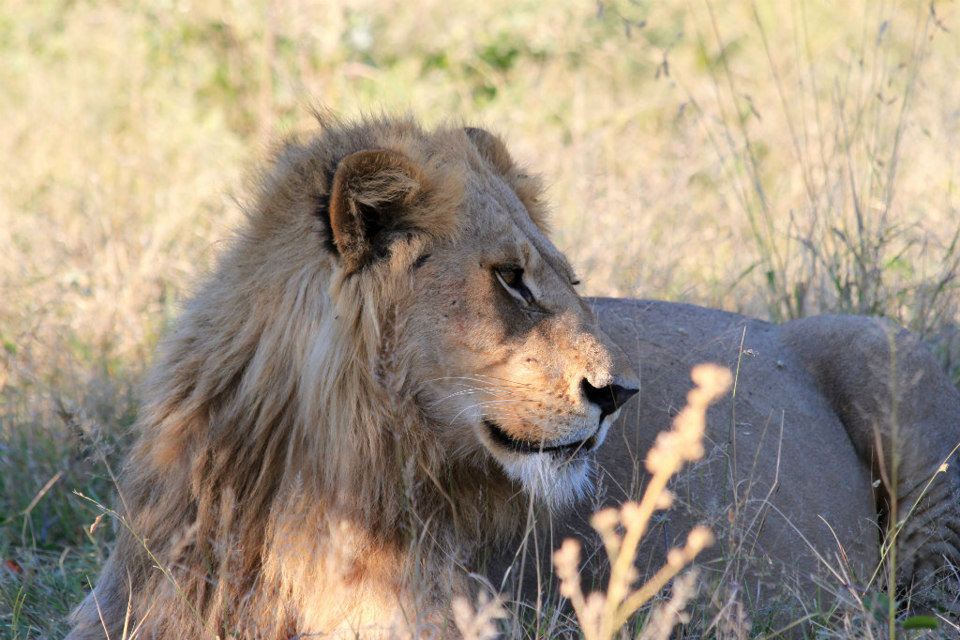 6:00am - As it was becoming light, it was time to walk to the fire pit area for a warming breakfast of porridge, cooked over an open fire. It tasted absolutely delicious – especially with a spoonful of honey! Myself and the two couples I was with, were really looking forward to our first full day at Little Kwara.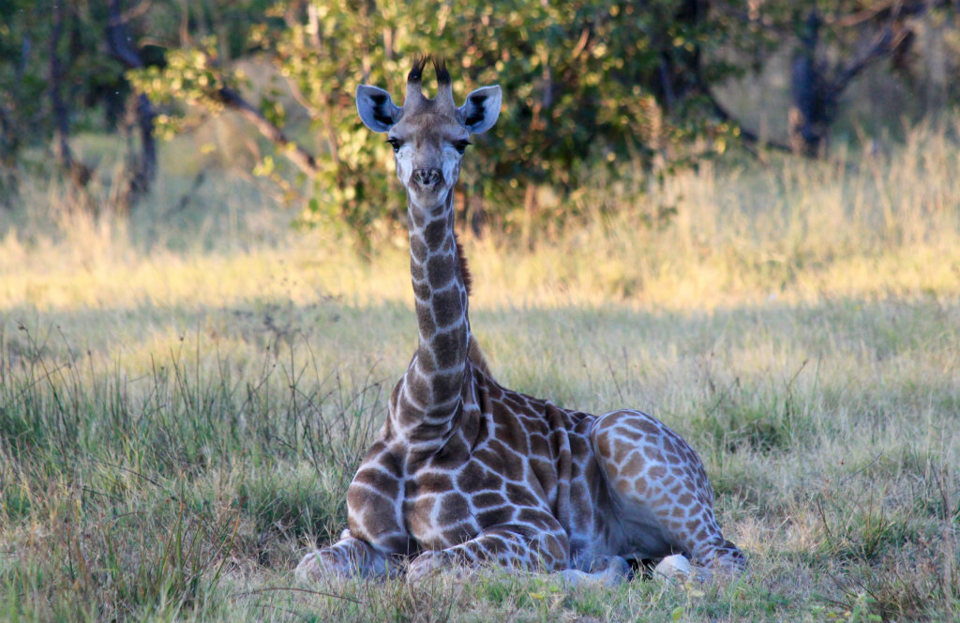 6:30am - The five of us climbed into our safari vehicle, with replenished 'bushbabies' and warm rugs, and set off with Dux our guide and Kelly our spotter, who sat on a seat protruding out in front of the engine! 
Dux was desperate to take us back to the scene of a lion kill, which we had come across the previous evening, as he said that more action would be taking place this morning. On the way, we saw groups of tsessebe and kudu. As we approached the area of the kill, Dux manoeuvred the vehicle close to the carcasses of the two buffalo that had been brought down by five young lions working together. This is the joy of a safari in a private concession – you can go 'off road' and don't have to keep to the tracks!
One by one, hyena started to approach us. The first one was scenting the air and seemed very nervous, as the smell of lions would still be strong. He moved around the carcasses trying to spot the lions – and once he seemed comfortable, he started to eat. That signalled the other hyenas, eight in total, to descend on the carcasses. The noise of them breaking the rib bones and vertebrae was amazing – you could actually see them salivating! Joining them were four jackals and four vultures – and the interaction between the species was fascinating. The jackals dived in quickly to grab a morsel, before the hyena sent them off, then they'd be back in again – real opportunists! A tug of war developed between two hyenas over the buffalo hide. I have to admit my feelings about hyenas changed, when I saw the amazing clear-up job they did with the two buffalo carcasses.
We moved on to see if we could find the five young lions (four males and one female). Dux said that they were between two-and-a-half and three years old. They were lying about 100 metres away, sleeping off their meal. We parked just 10 feet from them as they lay there in the early morning sun with large round stomachs and seemingly without a care in the world!
Dux had received information about a cheetah kill about 20 minutes' drive away – so we were on our way, appreciating a chance to shed layers as the sun was warming up nicely! When we arrived, there was the cheetah sitting on a mound shaded by small trees, with a freshly killed impala. To our absolute delight we saw that she had four cubs, which Dux told us were about three to four months old. The cubs were tucking in, but the mother was resting – we were told she had to rest for 30 minutes before eating. We were parked right next to them and they took no notice of us at all! In hushed tones, Dux told us so much about this cheetah family. He explained that the cubs are taught to eat the haunches first, where the most meat is, just in case the kill is stolen from them. He added that they don't break open the stomach, as the strong smell could possibly attract lions or hyenas. I learned so much, unable to take my eyes off this beautiful family. As each one had eaten its fill, it went to mum, who licked it clean. I felt so privileged that the cheetahs accepted us being there.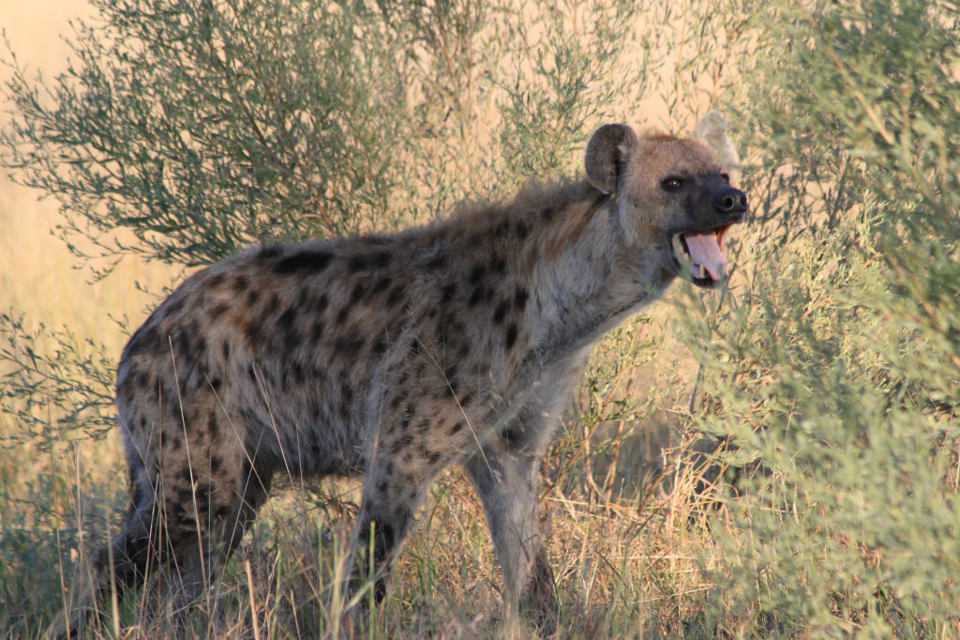 10:30am - What a fantastic morning! Then it was back to Little Kwara for brunch. The food was amazing, with a choice of delicious hot dishes, eggs cooked to order, rice and salad. Walking back to our tented rooms, each raised off the ground on stilts, we passed a family of warthogs trotting along the path. Time was our own now – and as the temperature had warmed up to about 25 degrees Celsius, an outdoor shower was in order! What a great experience, having a shower, peering over the screen and seeing impala grazing nearby.
Later on I walked around the camp, which is very private as it only caters for ten guests. Next to the plunge pool was an elephant eating from the trees near to the bar. You really feel that you have become part of their world.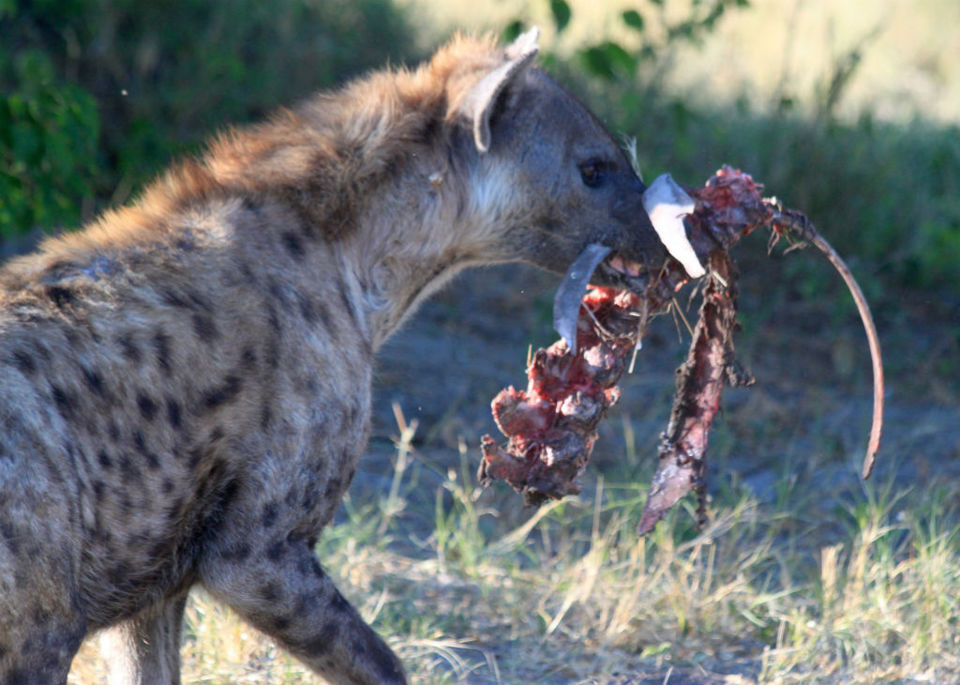 3:30pm - High tea – more food! Delicious homemade cakes – how do they do it? Everything has to be flown in – including us – and this was almost a fine dining experience.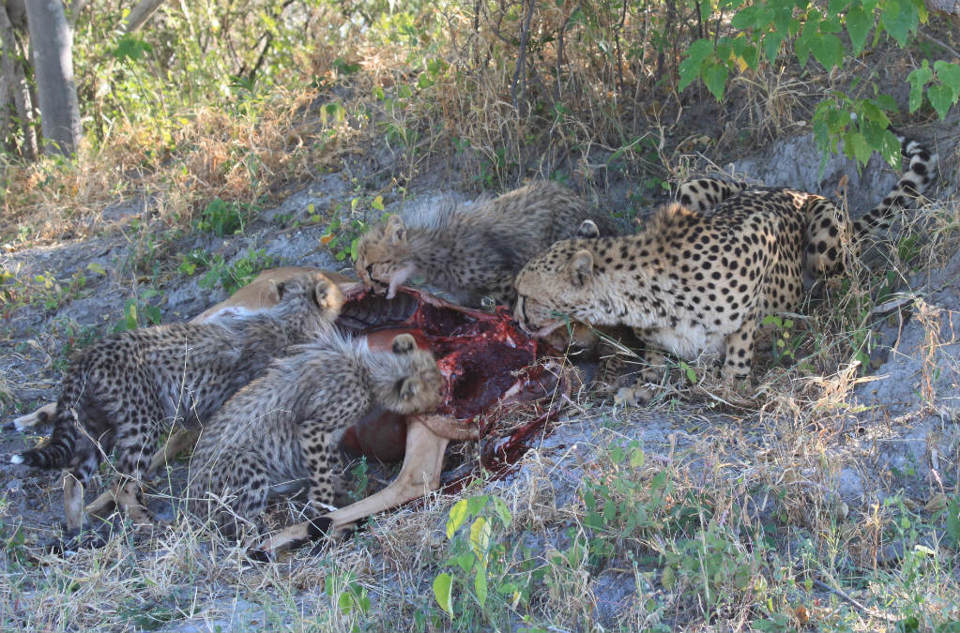 4:00pm - It was time for our afternoon/evening game drive and Dux wanted to take us back to see the cheetah and her cubs, hoping that their kill had not been stolen. When we arrived, all four cubs were lying on the mound with very large tummies – and the well-eaten kill was still there. The mother cheetah walked towards us and flopped down right by the vehicle – she was so close and so beautiful! Time seemed to stand still – with cameras going into overdrive!
Dux was keen to start looking for leopard and African wild dogs' tracks, as these were creatures we hadn't yet seen. Kelly worked really hard, but the tracks found were old ones. However, we came across large numbers of giraffe with lots of babies – they seemed to be really flourishing in this area!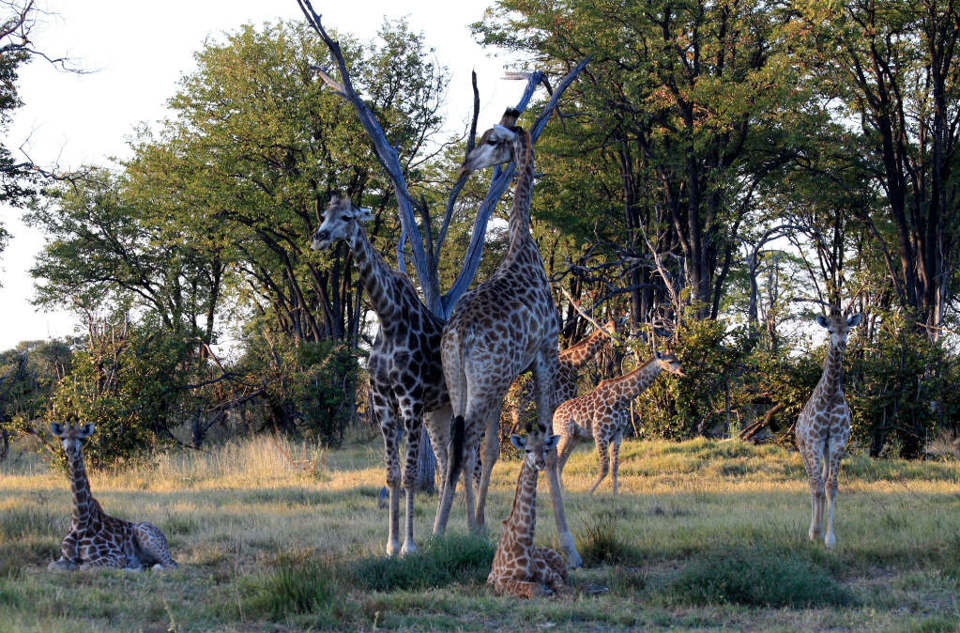 6:00pm - Dux found us a beautiful waterhole, where we got out of the vehicle to stretch our legs and enjoy the glorious sunset and the gin-and-tonics prepared by Kelly – bliss! As the sun sets, the temperature plummets – time to wrap ourselves in the blankets. Driving back, Kelly used a very powerful spotlight to try to spot nocturnal creatures. We saw a number of these, including a serval and an African eagle owl. Stopping the vehicle and turning off the light, we looked at the night sky. It was pitch black – I had never seen so many stars in my life and you could actually see the Milky Way!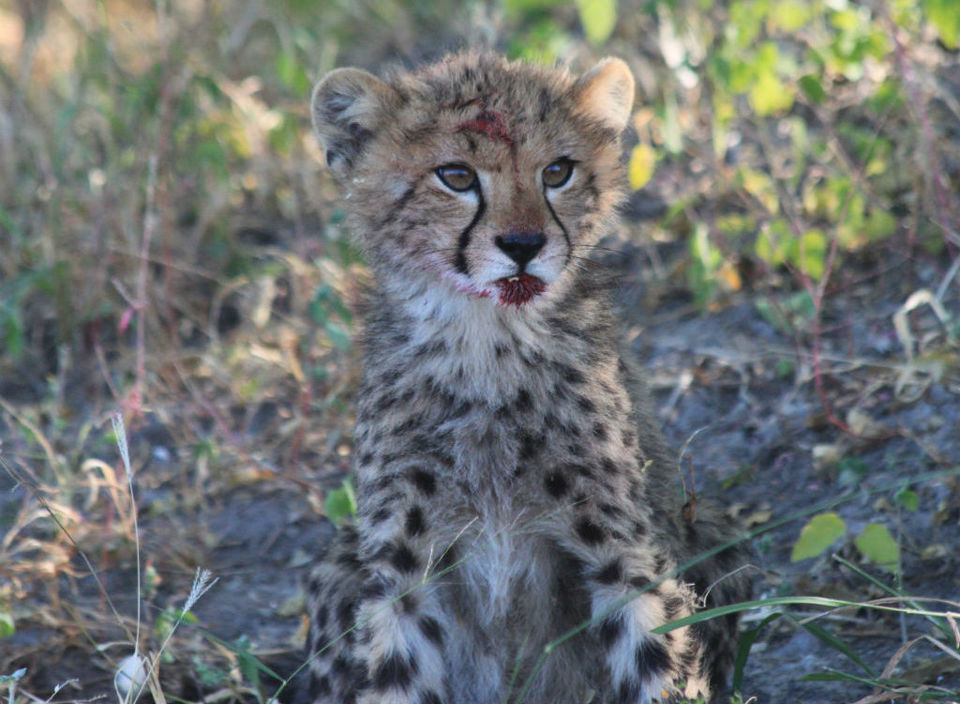 7:30pm - As we drove into the camp, we saw it was lit with lots of kerosene lamps and flaming torches, which twinkled as if Christmas was here! We collected another drink from the bar area and went to sit around the fire pit, chatting about what a great day it had been. Singing began from the ladies who did the catering, which was our call to the dining table. Another excellent meal was produced for us and thoroughly enjoyed. There were only nine guests and three guides eating together. It was fascinating to chat to the guides about their lives in Botswana. After the meal, as we sat around the table, Heather, one of our party, on returning from the bathroom announced, 'There's a hyena in the bar!' We looked around – about 20 metres away, there he was staring at us! He padded forwards a few paces towards us, then walked down the steps and into the night! And where was my camera? On a table in the bar, behind the hyena!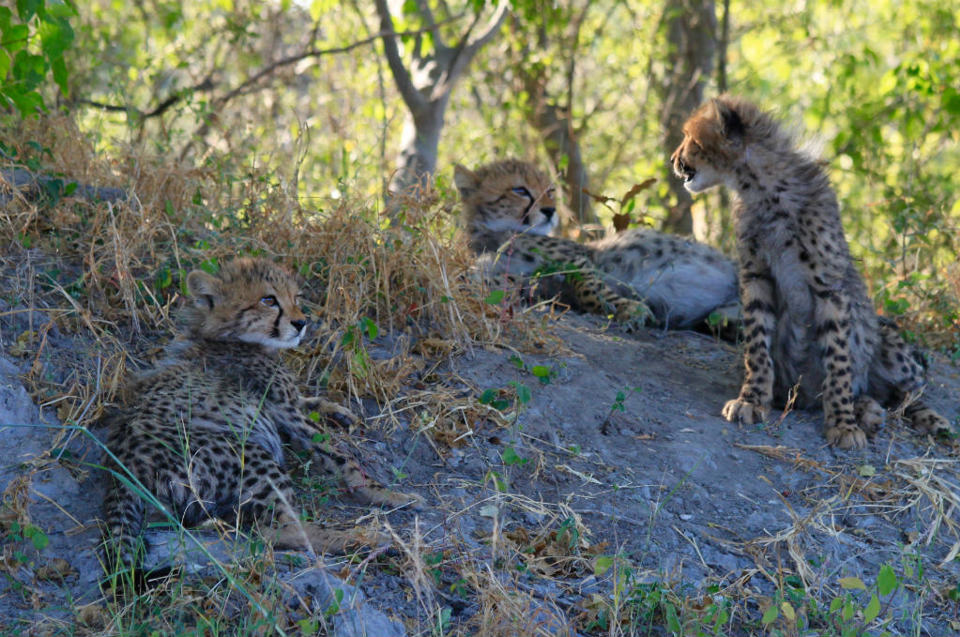 9:30pm - We had one more nightcap around the fire before retiring for the night. Dux accompanied us all back to our rooms, along the tracks, as you are not allowed to walk in the dark without being accompanied by a guide, for obvious reasons. I was fairly exhausted – it had been an amazing, unforgettable day. As I tried to get to sleep, I kept hearing those words, 'There's a hyena in the bar!' and I'd start to giggle – brilliant!