How high is Mount Kilimanjaro?
Mount Kilimanjaro rises for almost 6,000 metres above sea level. Without doubt, it's one of the most impressive geographical features in all Africa!
Where is Mount Kilimanjaro?
This majestic mountain is situated in Mount Kilimanjaro National Park. The park lies in the north of Tanzania, butting up against Kenya's Amboseli N.P. If you've ever marvelled at an iconic photograph of elephants in front of a mountain, chances are you've already seen Mt Kili with Amboseli's own giants in the foreground. But nothing can compare with the experience of climbing the mountain.
How difficult is the Kilimanjaro Climb?
Whichever route you take, a good level of fitness is required. After all, you'll be ascending a mountain for 5–6 days and for 6 hours daily! If you're fit, the climb itself is not tough, but if you get altitude sickness you'll feel pretty poorly. Caused by speedy exposure to low levels of oxygen, this condition is characterised by headaches, tiredness, vomiting, dizziness, and sleeping problems. Of course the risk of experiencing altitude sickness increases the higher you ascend, so the final push up to the summit can be quite trying. We advise consulting your doctor about the possible symptoms and consequences of altitude sickness, and what you can do to lessen its effects.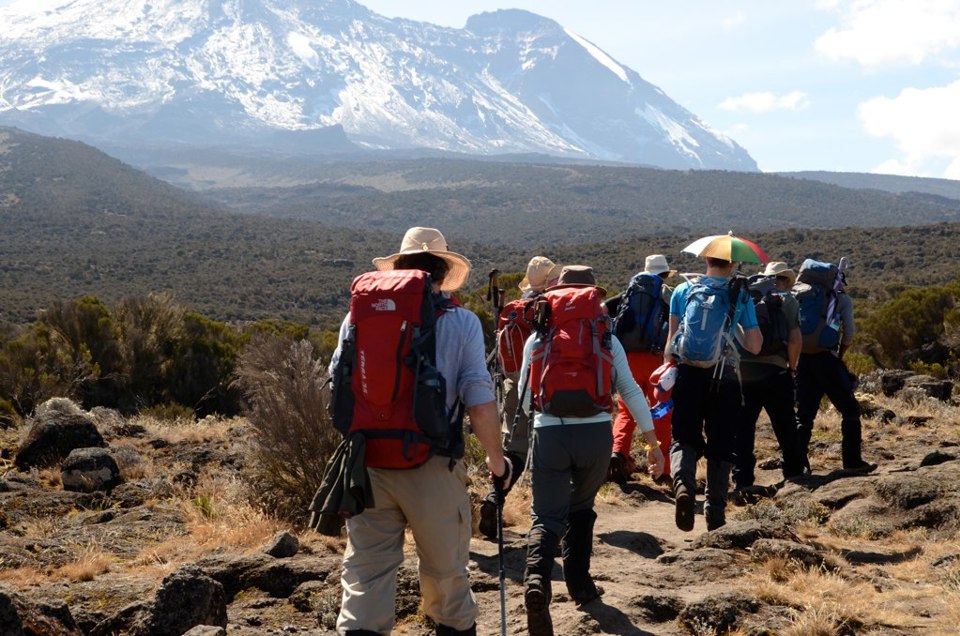 Kilimanjaro climbing routes: which route is the best?
Routes up Mt Kilimanjaro approach from either the east or the west. Among the eastern routes are Rongai and Shira, while the western routes include Lemosho, Machame, Rongai, and Marangu. The eastern approaches are harder, as they involve extra hours of walking at high altitude. If your group is up for this challenge, we recommend Rongai.
As for the western routes, we don't tend to use Marangu due to its sheer busyness and the poor quality of accommodation along the way, but Lemosho and Machame are excellent options. Both approach via the scenic Stella Point. Machame is busier yet is shorter and has a high summit success rate, whereas Lemosho is perfect for serious trekkers looking for a really immerse experience!
When you book with Yellow Zebra Safaris, we use the best mountain guides, who assist with both routes. They will brief groups in full before the climb begins, to ensure there are no surprises! Typically, you'll start your ascent of Kili at about 8 in the morning. But the final push towards the summit from your highest camp is a lot earlier, usually 2am, to make sure climbers reach the crater rim at sunrise and have time to descend back to camp following their push to the summit.
What can you see on your Kilimanjaro climb?
Both routes take climbers through four particular climate zones. These are termed the Forest Zone, the Heather and Moorland Zone, the Highlands Desert Zone, and finally the Summit Zone.
1. The forest zone:
The Forest Zone consists of rainforest that circles most of the mountain. This rich habitat is home to a wide variety of flora and fauna, although wildlife is difficult to see due to the thickness of the vegetation. Trekking through the forest is certainly a pleasant experience, though, with plenty of shade offered by huge trees draped in thick moss. However, this is the zone in which climbers are most likely to experience rain.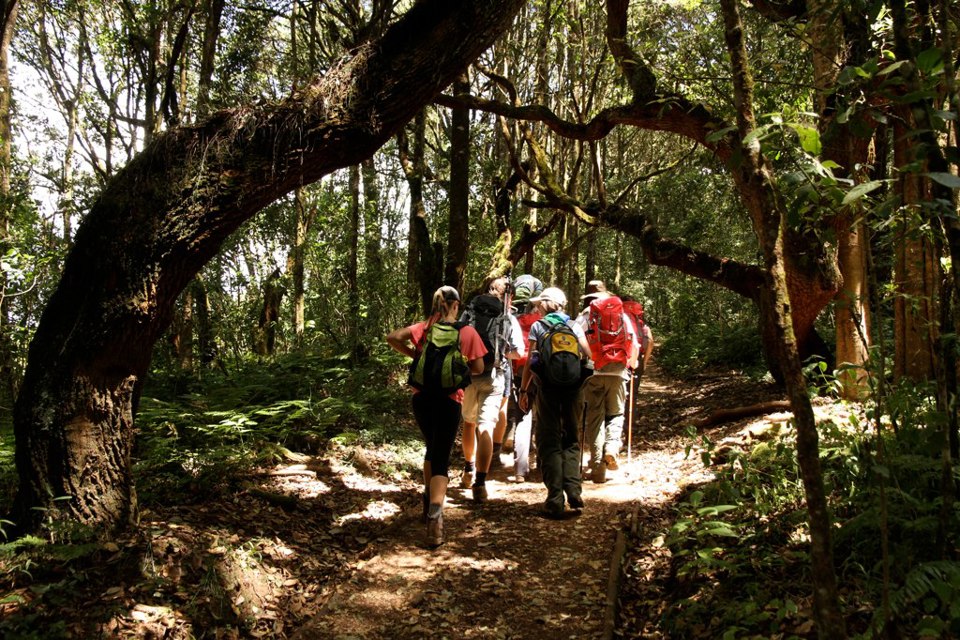 2. The Heather and Moorland zone:
The Heather and Moorland Zone is much more open than the forest, exposing hikers to deceptively strong sunshine exacerbated by the fact that there's little to no cloud cover up here due to gusting winds. We recommend bringing a good hat and plenty of sunscreen!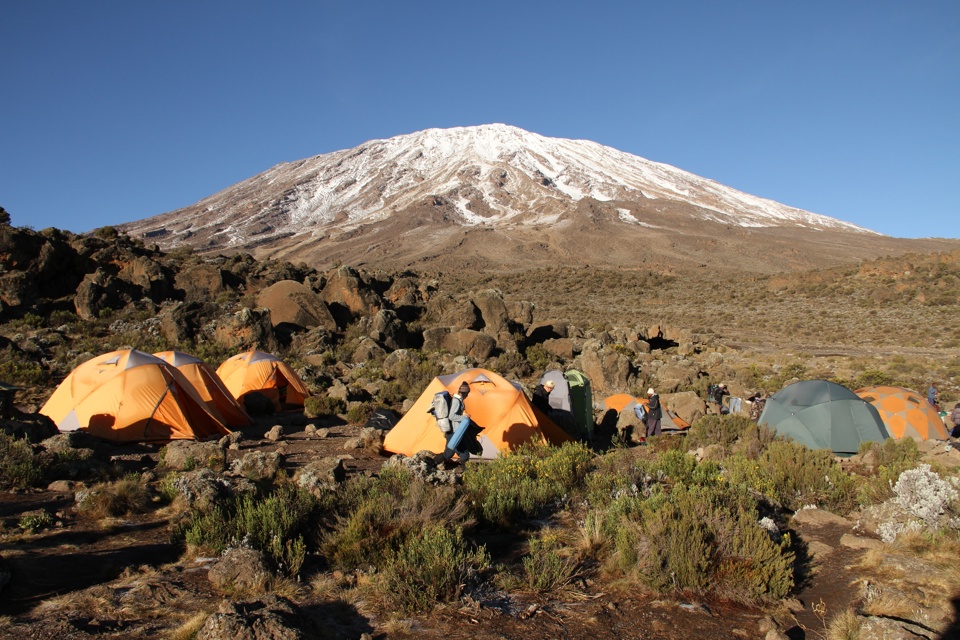 3. The Highlands Desert zone:
Once you enter the Highlands Desert Zone, you'll find yourself in an alien boulder-strewn landscape. There is no protection whatsoever from the sunshine up here and the air is incredibly dry, necessitating plenty of sunscreen and lip balm. At night, conditions become somewhat uncomfortable, with temperatures dipping well below zero, so keeping some layers of clothing on in your sleeping bag is advisable here.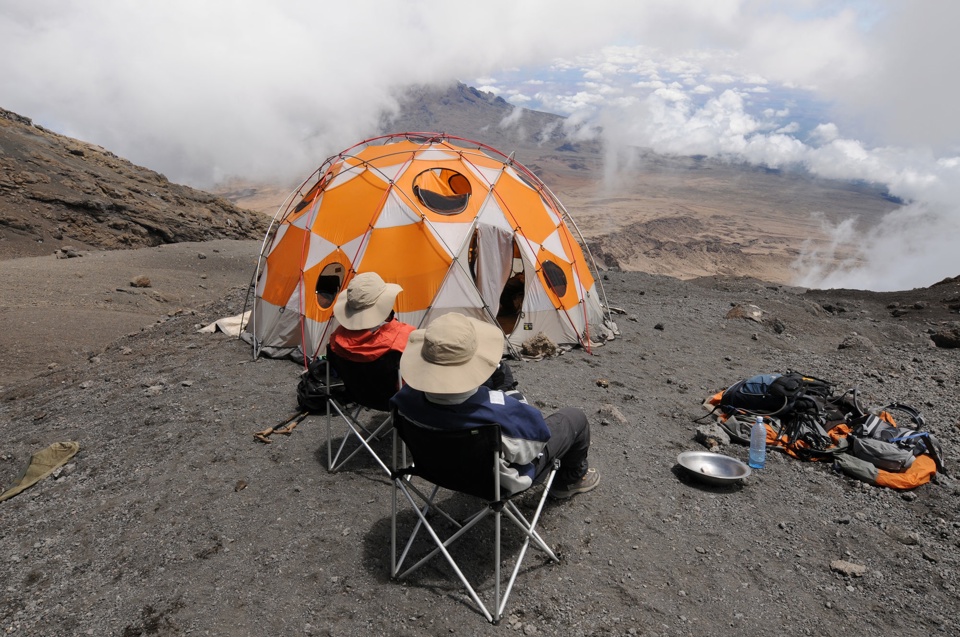 4. The Summit zone:
The final zone is known either as 'the Summit Zone' or more scientifically as the Arctic Zone. As the name suggests, it is bitterly cold up here, and covering your nose and mouth with a balaclava or scarf is a great way to avoid cracked lips. All summit attempts depart at about 2am, as this is when the scree slopes, comprising loose gravel and stones, are at their most stable and climbing is a lot easier to do.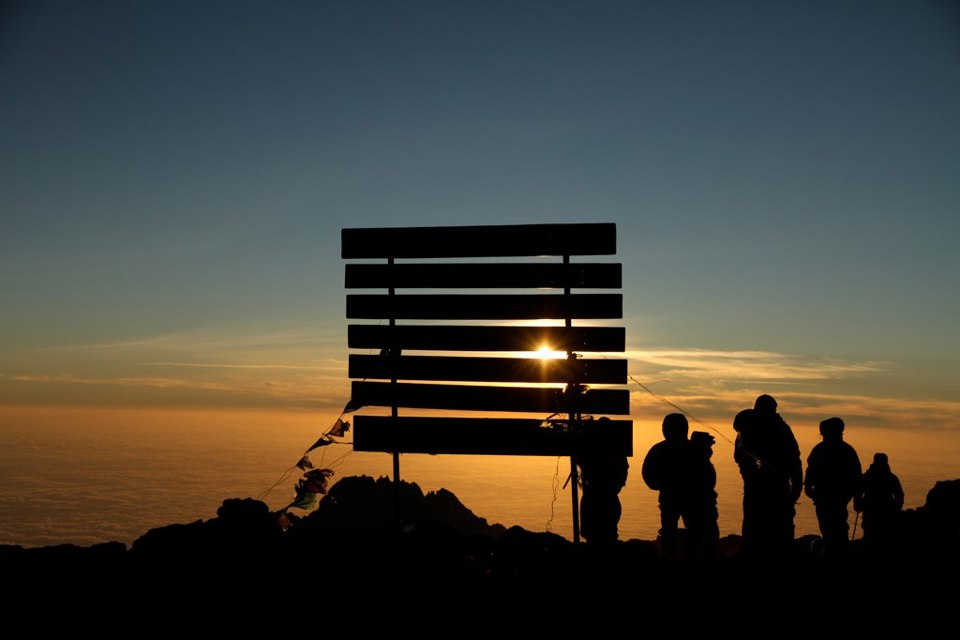 What should I pack for Kilimanjaro?
As far as equipment is concerned, you'll need to bring or can hire:
sturdy, secure, and worn-in hiking boots with good ankle support
walking poles
roll mat
sleeping bags
down jacket
a balaclava or scarf to cover your face.
This isn't a technical climb, so you'll just require the basics for mountain climbing.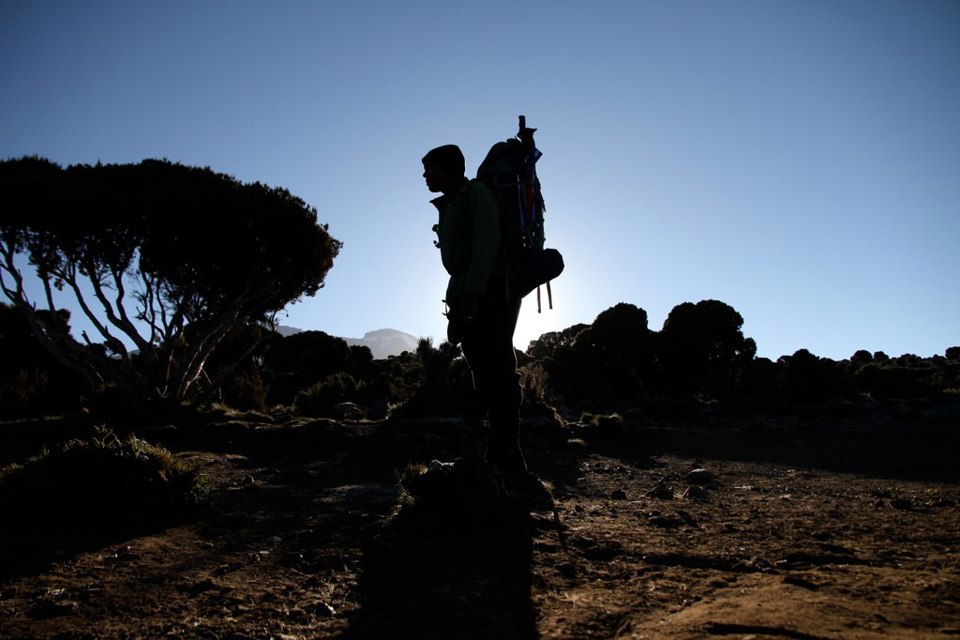 Things to consider for first-time climbers:
Always let the slowest climber in your group take the lead.

Not only will this give them a fair chance to summit, but it'll also allow other climbers to conserve energy.

Take plenty of snacks with you.

Sugary sweets, biscuits, and energy and chocolate bars are the ideal way to maintain energy levels over long days through harsh environments.

Layer up!

As well as bringing a thick jacket and thermals, we recommend that you wear layers of clothing. Taking off one of four T-shirts, for example, is a much better method for lowering your body temperature slightly than continually zipping and unzipping your jacket.

Take plenty of good-quality socks.

Dry, comfortable socks are almost more important than good hiking boots, as they are a key part to ensuring that your feet stay in good condition.

Take extra precautions against wet weather!

Most bags will come with a rainproof cover, but this can rip, or get lost. As such, it's advisable to pack your gear in plastic bags before you pack it in your rucksack. This is an excellent safety precaution to make sure that your gear remains dry.

Approach your climb as you would a marathon, not a sprint.

This is quite an obvious recommendation, but for many climbers the attempt to reach the top of Kilimanjaro is doomed to fail in their first couple of days – when they feel at their strongest. Starting off quickly will simply sap energy that'll prove critical for the last day-and-a-half, when conditions are difficult at best due to the cold and lack of oxygen.

Don't start your climb on a weekend! 

Monday is perfect - it dramatically reduces the number of people on the mountain!

Spend a minimum of 6 nights. 

The key here, irrelevant of which route you take, is to spend a minimum of 6 nights on the mountain. 5 nights is asking for trouble....and quite serious trouble in some cases. This is extreme altitude....dont forget it!