Here at Yellow Zebra Safaris, we pride ourselves on creating bespoke safari trips for our clients, which means that the lodges you will visit can be completely tailored to your needs. Call our safari expert team to discuss your requirements, or read on for our pick of the best. 
1. Ol Donyo Lodge, Chyulu Hills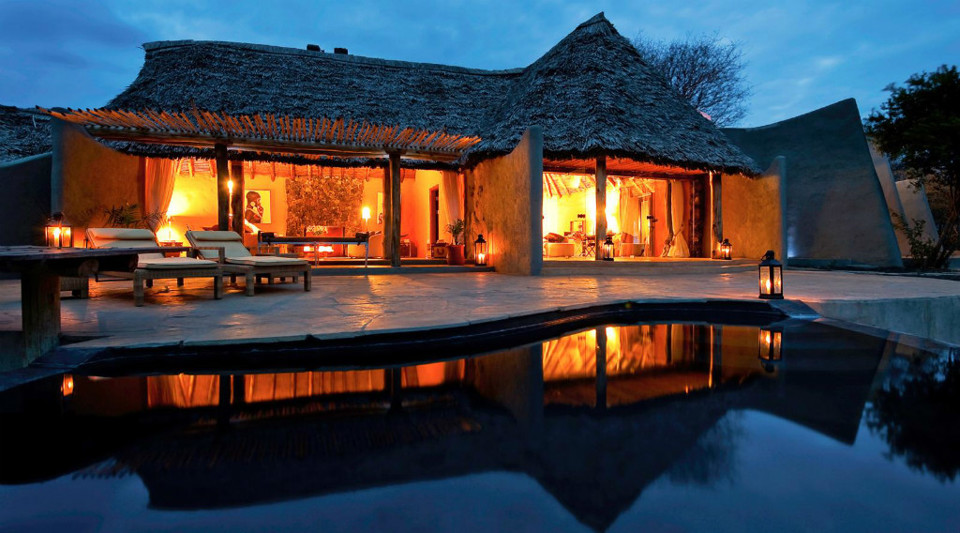 Ol Donyo Lodge was originally built by famous conservationist Richard Bonham in 1987. Today the lodge is operated by Great Plains Conservation, one of Africa's leading luxury safari brands, who redeveloped it in 2008. Ol Donyo is located in the private Mbirikani Group Ranch, which is leased from the local Maasai in order to conserve the wildlife in the area. Besides being an all-round excellent lodge, this property also offers a range of outstanding activities including horseback riding, guided walking and mountain biking.
2. Mara Plains, Olare Motorogi Conservancy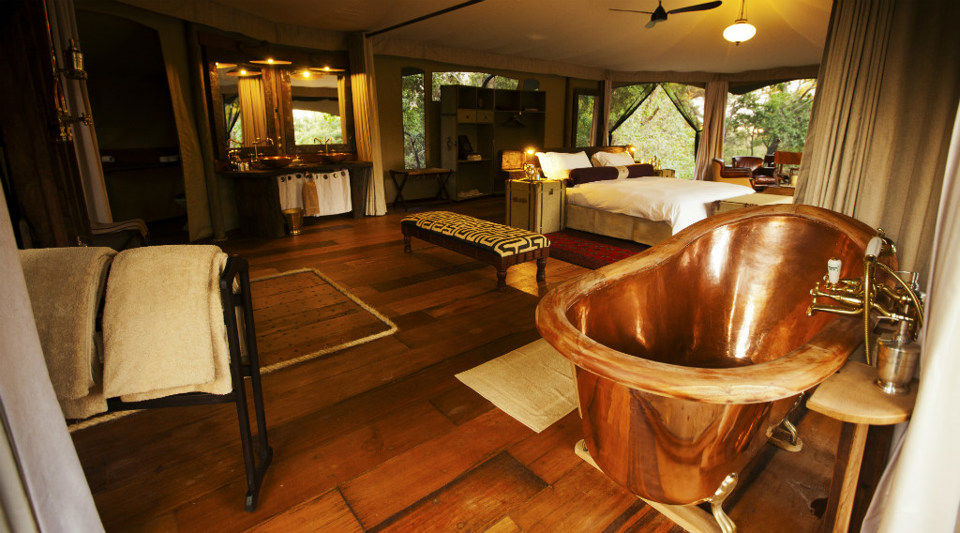 Mara Plains is also run by Great Plains Conservation, so this is another deluxe lodge! Located in the private Olare Motorogi Conservancy bordering the Maasai Mara National Reserve, Mara Plains gives guests the option to game drive in the main reserve or in the quieter Greater Mara Conservancies. This classic safari property offers first-rate accommodation, guiding and service. This is without a doubt one of the finest camps in Kenya!
3. Angama Mara, Maasai Mara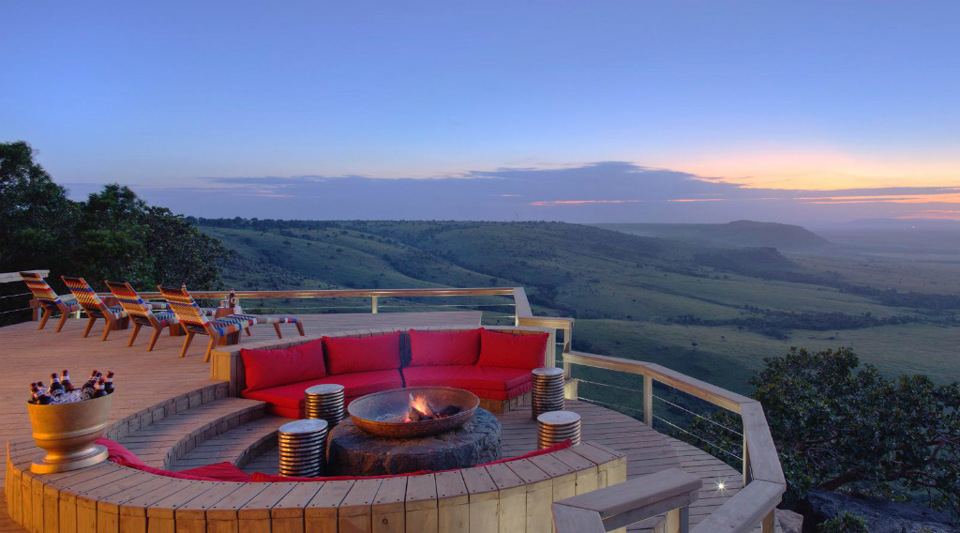 Angama Mara enjoys one of the best locations in the Maasai Mara. Located sky high on the Oloololo Escarpment, this luxury property boasts the most breathtaking views of the Mara – and sightings of the Big Five from the lodge itself are not uncommon! This new property defines chic – the 30 tented suites are laid out as two separate camps to provide the best possible service. Besides game driving in the Maasai Mara, Angama Mara offers a range of activities including guided walks, Maasai village visits, beading with the Maasai ladies, romantic picnics on the kopje where the 1985 film Out of Africa was filmed – and for those keen to keep in shape, there is a fully equipped gym and swimming pool on site!
4. Sasaab Camp, Samburu National Reserve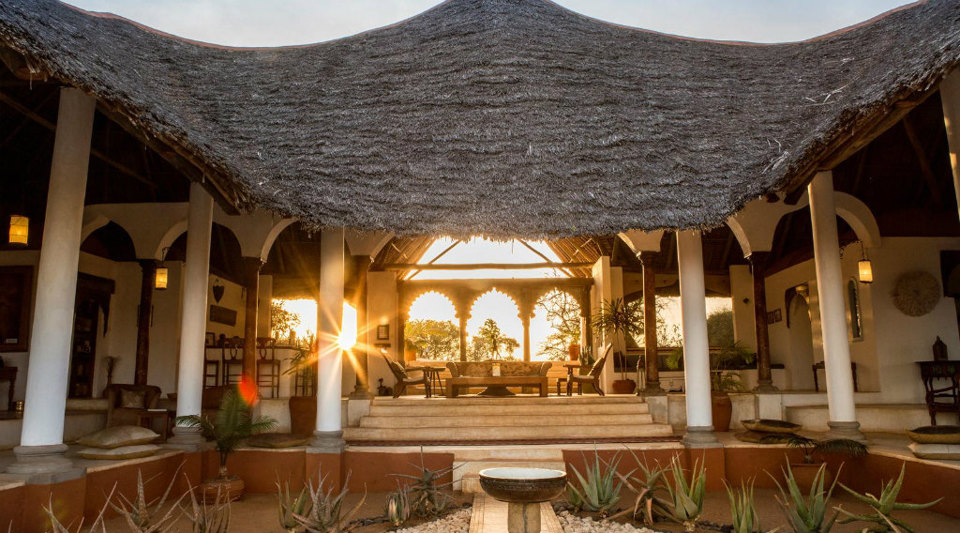 Sasaab is the most luxurious lodge in Samburu! Operated by The Safari Collection, this impressive property is situated on a rocky ridge on the banks of the Ewaso Nyiro River in the private Westgate Community Conservancy. It has a stylish Moroccan–Swahili theme and each of the spacious guest tents boasts its own private plunge pool! If that does not win you over, the activities here will – aside from game driving in the Samburu National Park, Sasaab offers camel riding, guided walking, quad biking, visits to a Samburu village and even Samburu dances! And for those keen to relax Sasaab also has its own spa, SpaSaab, supplying a range of beauty treatments.
5. Saruni Samburu Camp, Samburu National Reserve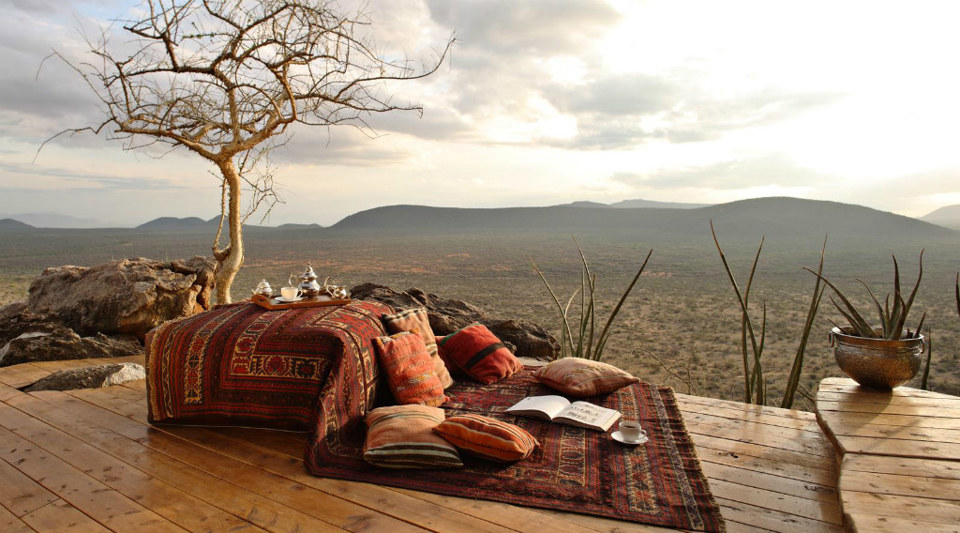 Saruni Samburu is another exceptional property in Samburu! Situated on the top of an enormous rock, this property offers fantastic vistas of the Kalama Community Conservancy. The accommodation consists of six luxurious villas, all well positioned and built around the rock to take in the magnificent views. For guests to enjoy the warm Samburu days, there are two large swimming pools in the lodge, both ideal for relaxing! Other activities include game drives in both the Kalama Community Conservancy and the Samburu National Park, walks up the sacred Mount Ololokwe, visits to the local village Kiltimany, and excursions to the very intriguing local caves!
6. Sirikoi Camp, Lewa Wildlife Conservancy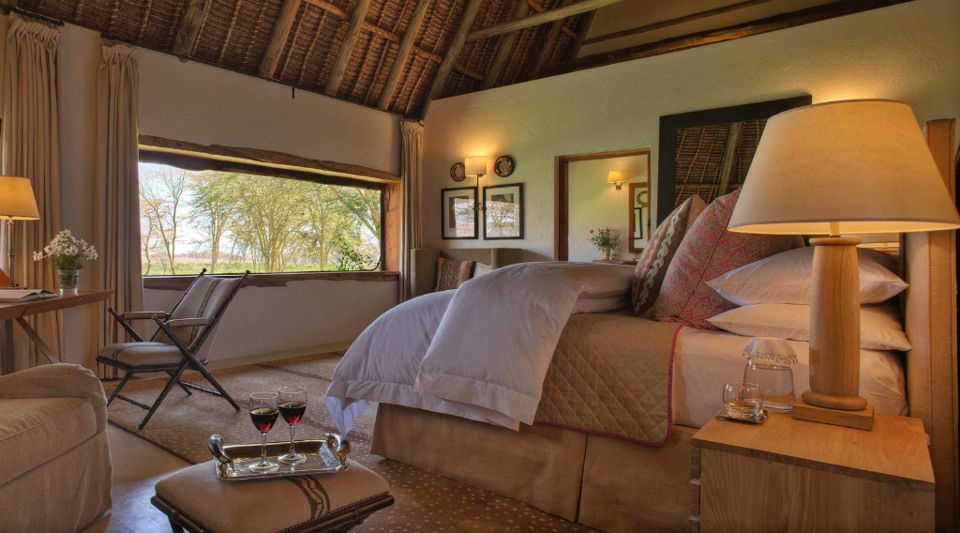 Sirikoi is one of the most luxurious properties in Lewa Wildlife Conservancy! Owned by Willie and Sue Roberts, who have lots of experience setting up and running camps, this property has loads to recommend it – including a fabulous location overlooking a natural spring, which is frequently visited by elephant and rhino. Guest accommodation consists of four tented rooms, one two-bedroom cottage, and one three-bedroom private house. Sirikoi offers a top-notch range of activities, such as visits to the Ngare Ndare Forest, horseback rides, camel rides, guided walks, or for a more scenic view of Lewa why not try a scenic flight in a biplane!
7. Richard's River Camp, Mara North Conservancy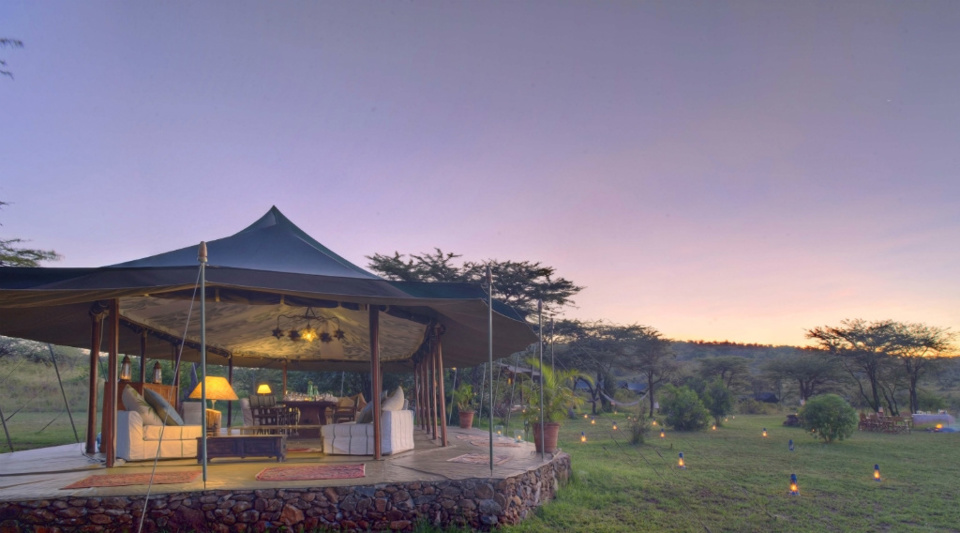 Richard's River Camp is situated on the banks of the Njageteck River in Mara North Conservancy. Owned by Richards Roberts himself, this camp is one of the finest properties in Mara North! Classic and stylish, it consists of seven traditional tents spread out on the river bank. As well as game drives in Mara North Conservancy and the Maasai Mara National Reserve, activities comprise guided walks and visits to a Maasai village.
8. Solio Lodge, Laikipia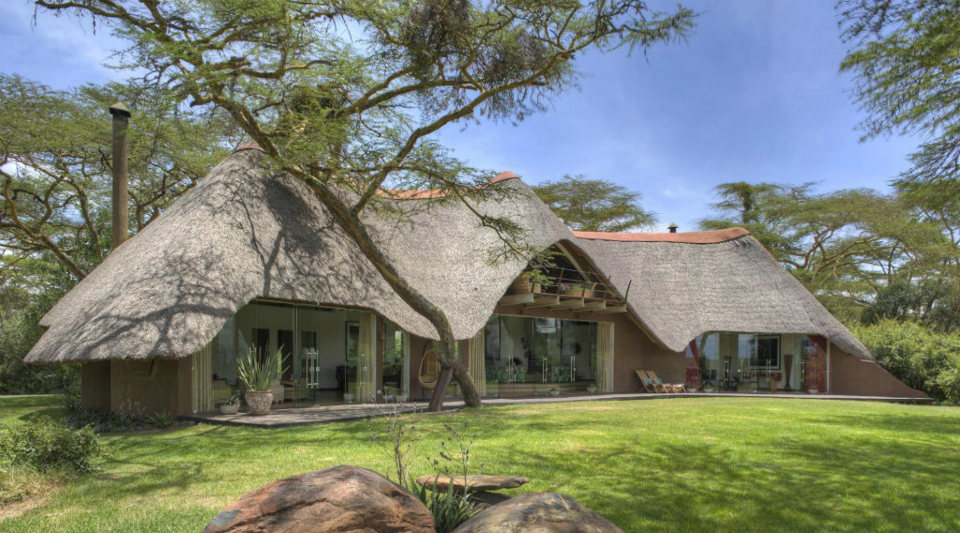 Solio Lodge is one of the most exclusive camps in Kenya! It is located within its very own reserve, the 45,000-acre Solio Game Reserve. This remarkable area is home to a high number of both black and white rhino and has been recognised as the most successful breeding reserve in Kenya! The lodge itself is made up of six luxurious cottages, each with a contemporary style and boasting large floor-to-ceiling windows that look on to spectacular views of the plains and Mount Kenya beyond. In addition to the draw of delicious food cooked with ingredients grown in the lodge's private garden, Solio offers a range of activities including day and night game drives in the reserve, horseback riding, guided walks, mountain biking, day excursions to the nearby Aberdare National Park, visits to the nearby school – and, if you have time to relax, some lovely spa treatments, which can be enjoyed in the privacy of your own room!
9. Ngare Serian, Mara North Conservancy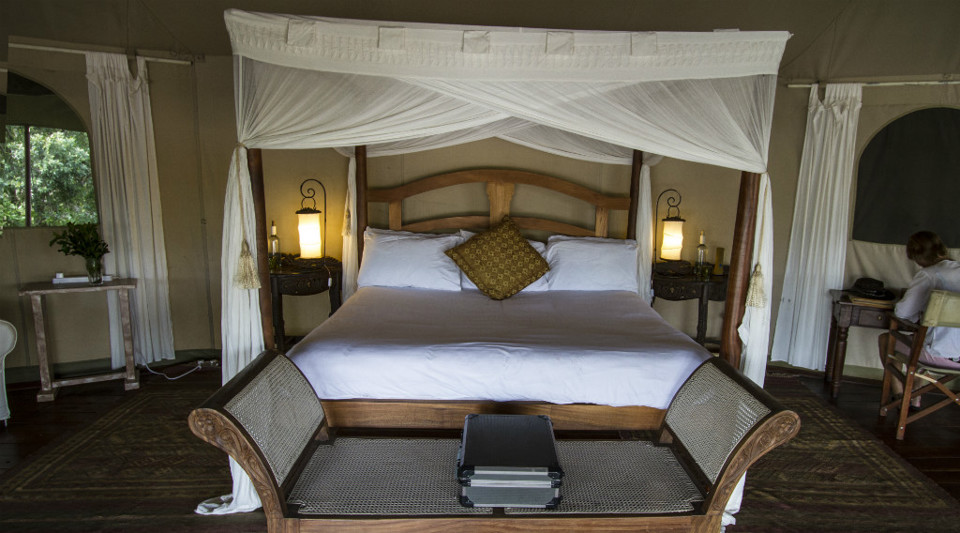 Ngare Serian is situated in the Mara North Conservancy on the banks of the Mara River in a private walking concession. It consists of just four luxury tents and is accessible only by footbridge! One of Alex Walker's properties, this classic safari camp offers an all-round amazing experience, with first-class guiding, exclusive use of vehicle (a perk not offered in many camps!), superb accommodation, and delicious food! As well as all this, the camp provides a range of activities including guided walks, fishing, and night drives. For those looking for an experience of a lifetime, the camp also has a fully furnished tree house overlooking the Mara River (and a lively pod of hippos!), in which guests can stay for a night.
10. Elsa's Kopje, Meru National Park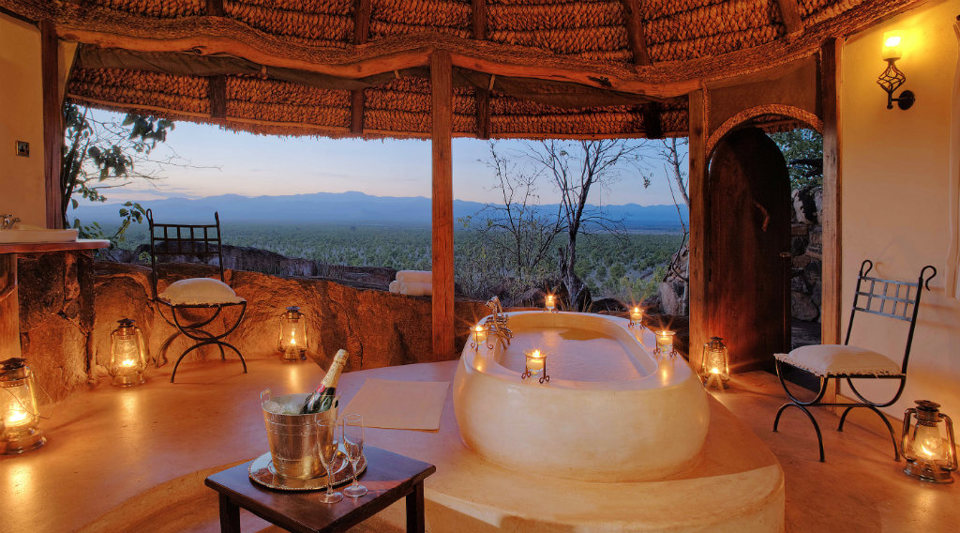 Elsa's Kopje is a luxury lodge located in Meru National Park, on the Mughwango Hill overlooking George Adamson's original camp. This elegantly styled lodge is built around the natural rocks and offers remarkable views of the Park, which is famous for its outstanding variety of birds, its thriving rhino sanctuary, and its large herds of elephant and buffalo. For those eager to explore the history of the Adamsons, a visit to Elsa's grave is highly recommended. And another great activity at Elsa's Kopje is climbing Mughwango Hill! This lodge is undoubtedly one of Kenya's hidden treasures and well worth a visit.