Guide Profile - Siwandu Camp
We asked the guides from Siwandu Camp a few questions about their guiding experience and why they love their jobs! Here's what they had to say..
Niven, 38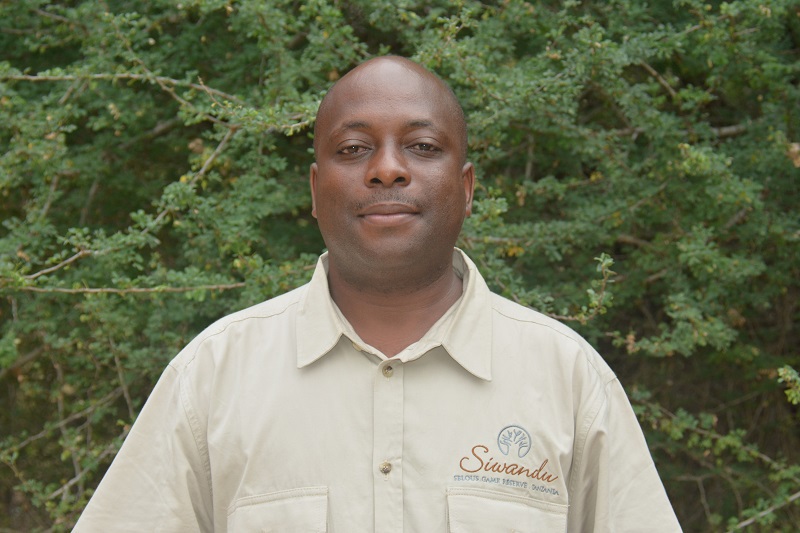 'What do you love about Siwandu Camp and the surrounding area?'
Being located along Lake Nzelekera means our guests are able to walk less than 100m to the jetty to jump on a boat for our wonderful boat safari. Also, the Siwandu management and staff work really well together as a team and everyone is treated equally.
Walter, 32
'What are you favourite game viewing locations within this larger safari region and why?'
My favourite location is the Mwanamungu/Lake Manze area, because it is more of a wooded savannah with an open landscape. Many animals come down daily to drink so we can often see large herds of wildebeest, zebra, buffalo and impala, as well as giraffes. Also, I believe that this area is where two of the lion pride territories meet, so it is possible to come across both prides relatively close to one another. If we see them, it is noticeable how much more 'on edge' they are due to eachother's presence.
Mohamed, 51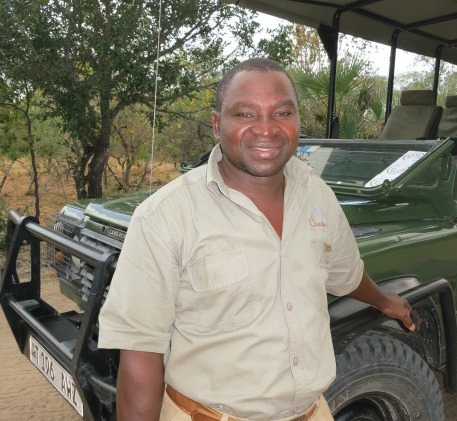 'What is your best wildlife experience so far?'
In June this year, I was about 15km from camp on the main road with my five guests. We saw five lions - 2 adult females and 3 two year old's - crossing the main road. They looked like they were hunting so we followed them at a respectful distance. We saw a herd of wildebeest, and so we stopped to let the lions hunt without interference. They managed to kill one, and as we were watching them feeding, we heard the sound of hyenas coming closer and closer. One male lion went to investigate, but when he realised he was outnumbered, he scurried up a tree. As the hyenas - we counted twelve in total - got closer to the lions, they started acting very aggresively and scared the other four lions off the carcass. The hyenas ate very fast and in no time they were finished and moved on, and so for once the lions had the leftovers! We watched this incredible wildlife experience unfold for over an hour, and it was truly amazing to watch.
Said, 50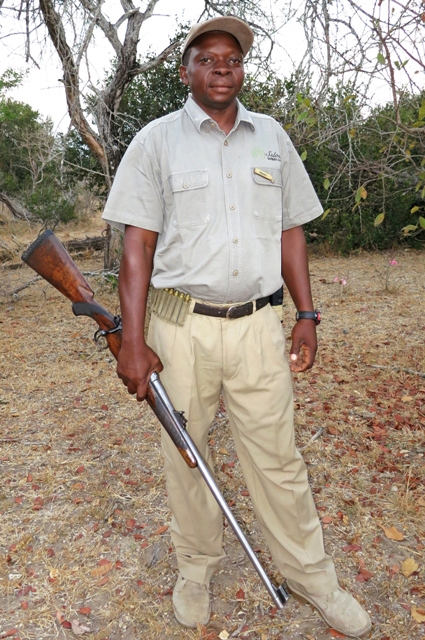 'What is your best wildlife experience so far?'
In 2003, I came across four lions in the shade of a Milkberry tree near Lake Mzizimia. The lions kept looking up, so my four guests and I decided to stay for a while and see what they were looking at. Suddenly, we saw a leopard in the tree. The lions were trying to climb the tree to get to the leopard but they were not succesful. For about five hours we were watching this incredible interactions of predator versus predator. The leopard kept climbing higher into the thin branches as it was smaller and lighter than the lions, and knew it would be safe. It was incredible to watch!
Enock, 32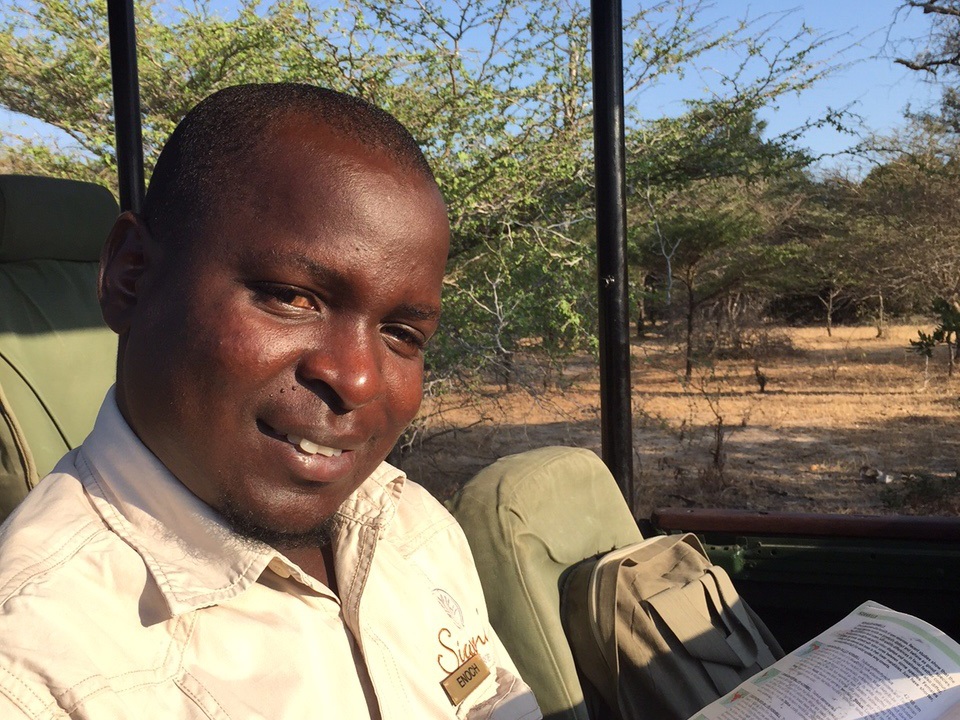 'What are you most passionate about as a guide?'
Birding is a true passion of mine. As a kid, I remember seeing thousands of birds during harvesting time. It was the children's duty to chase away birds using tins filled with stones and shaking them at them. I also used to catch doves to cook on an open fire and eat. Believe it or not, this was the start of my love for birds! I love beautiful small birds with amazing colours and goshawks, sparrow hawks, and falcons. My favourite birds however are the Lilac-Breasted Roller, and the African Fish Eagle. Another passion of mine is guiding children - I like to teach them about wildlife.
Apollo, 31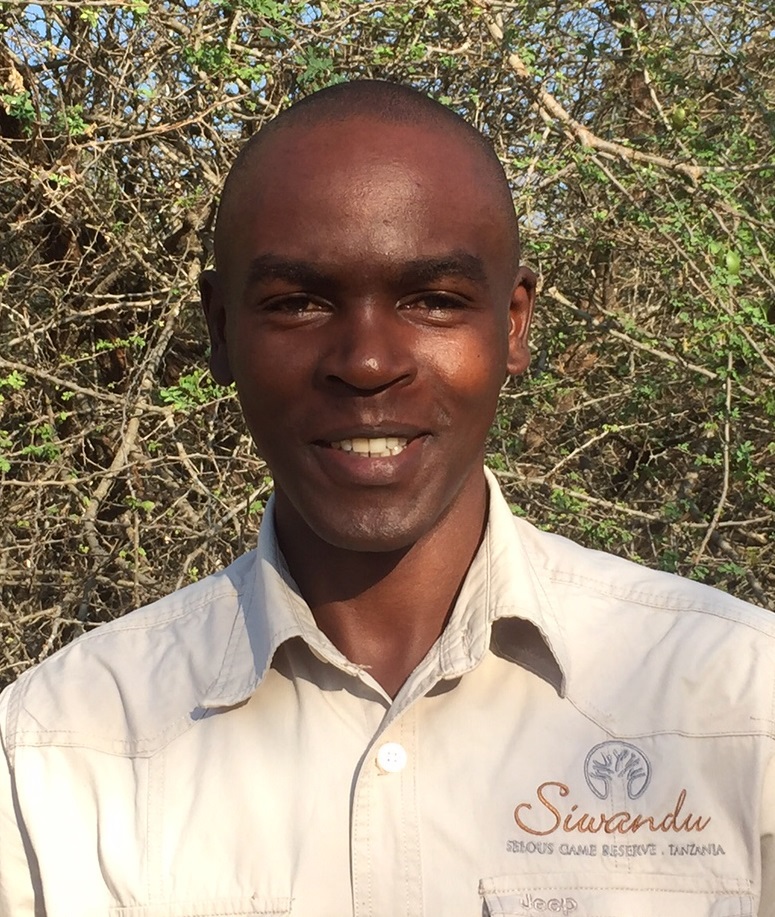 'What are you most passionate about as a guide?'
It has to be birding! As a young boy I used to catch little birds, like the beautiful Cordon Bleu, and take them back home to keep in a cage. I looked after them and fed them and loved to look at their beautiful colours. Before I returned to school, I would release them back into the wild. This is when my passion for birds and birding started, and ever since then I have enjoyed spending time identifying and observing all birds. They are so beautiful with many different colours and songs, and they can also indicate a change in the weather.
Please note: Siwandu Camp cannot accept any requests for specific guides due to guide scheduling.