Embark on this 8-day adventurous trekking trip to Mount Kilimanjaro via the well-known Lemosho route, and enjoy a truly unforgettable experience.
Detailed trip itinerary:
This western approach up Mount Kilimanjaro is perfect for climbers who'd like a really immersive experience of the mountain! Involving farmland, forest, moorland, and of course Kili's spectacular high slopes, Lemosho offers an incredibly scenic trek.
Day 1: walking time 2-3 hours
Today you'll be driven to the Londorossi National Park gate and you'll complete the required registration. Once through the gate, you'll have a brief yet interesting ride through varied farmland, all the while enjoying open views over sprawling plains! You'll be aiming for the Lemosho roadhead. If the area has received rain recently, the road's final section is likely to be difficult – you'll need to hop out of the vehicle and make the last kilometre or two up to the roadhead on foot. Once you arrive at the roadhead, you'll tuck into a hearty lunch. Afterwards, you'll start walking up a narrow path through lovely verdant forest to reach your first camp. This is Lemosho Big Tree Camp (2,650m).
Day 2: walking time 6-7 hours
Leaving camp, you'll emerge from the forest and begin to make your way over Mount Kilimanjaro's moorland zone, a scenic area containing abundant giant heather. This part of the trek takes you as far as the Shira Plateau, and during a steady ascent you'll marvel at panoramic vistas across the mountain! If afternoon mists swirl in, you'll have a real sense of being in the wilderness, far from civilisation. Fortunately the plateau does have a comfy camp, known as Shira One (3,550 metres). This is where you'll spend your second night.
Day 3: walking time 4-5 hours
Today will be relatively easy, allowing a chance to acclimatise. You'll also take a bit of time to explore the Shira Plateau's dramatic volcanic rock formations! The first walk will take you to Shira Cathedral summit and onwards to your next camp, at Shira Hut (3,840m). The views from here are absolutely breathtaking, including not only the Shira Plateau's spiky rim but also Kibo, Mt Kili's highest volcanic cone. You'll also be well placed to admire Mount Meru, which appears to float on clouds when seen from this altitude.
Day 4: walking time 5-7 hours
Come Day 4 you'll leave the moorland zone and begin a gentle climb to the Lava Tower junction (4,550m). You'll pass under the Western Breach's glaciers, walking on lava ridges. This part of the route also involves some thrillingly wide views! Once at the junction, you'll have lunch in readiness for your first descent of the trek – from Lava Tower to the base of the Great Barranco valley (3,900m). The valley is surrounded by tall cliffs. As you head down to its floor, you'll have amazing views of plains.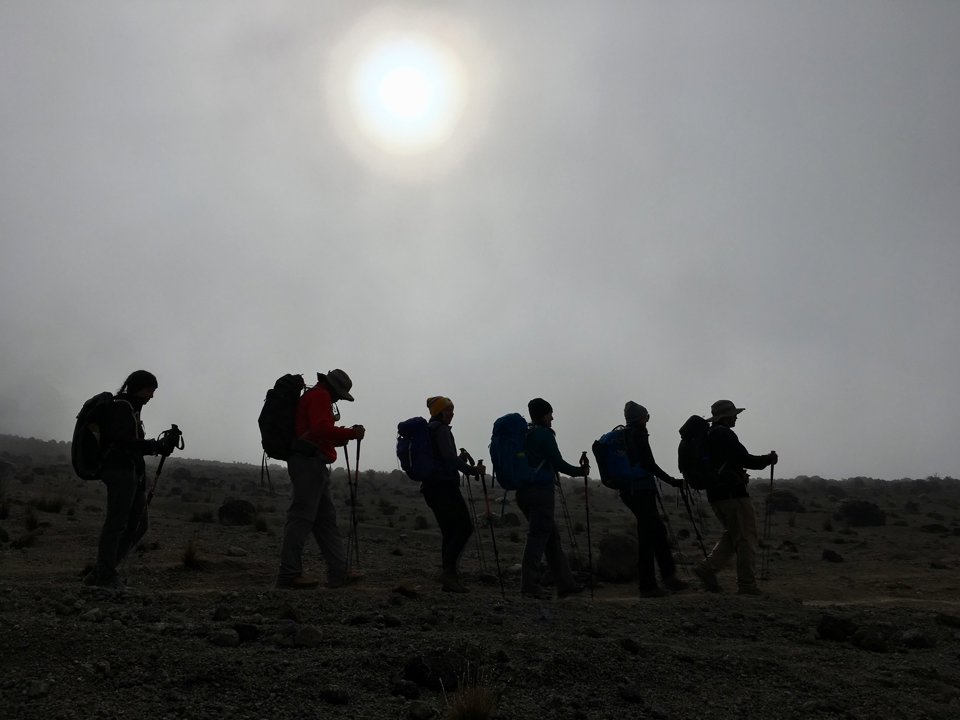 Day 5: walking time 4-5 hours
Time for a steep ascent! You'll head up the Barranco Wall and arrive on Kibo's south-eastern side, negotiating your way along an undulating path with spectacular vistas of Mt Kili's Southern Icefields. The terrain here is scree, with occasional hollows filled with greenery. At the end of the day, you'll arrive at your camp at Karanga (4,000m). This camp is the final water point before you reach the summit.
Day 6: walking time 3-5 hours
Leaving Karanga, you'll start towards your next camp, at Barafu (4,600m). The terrain is steep again yet easier than it was on yesterday's walk, as the path is compacted scree. Once more, there are fantastic views! After lunch at Barafu, you'll have a brief walk up to the plateau forming the floor of the South-East Valley (4,800m), a good opportunity to acclimatise. Once you arrive at camp here, you can spend the rest of Day 6 relaxing and preparing yourselves for tomorrow's last push up to the summit. You'll head to bed very early, for your 1am start tomorrow.
Day 7: walking time 11-15 hours
It's Ascent Day! As planned, you'll begin at 1am, to ensure you reach the crater rim by sunrise. Torches will light your way, initially a steep climb over volcanic scree that's loose rather than compacted. Fortunately you'll be able to make use of a few well-defined zig-zags, hoping to reach Stella Point (5,735m) in approximately 5–6 hours. Once you're at the point, you'll take time to relax and gaze at the sunrise over Mt Kili's second-highest cone Mawenzi. At this stage an add-on excursion is available, in the form of a 2-hour round trip featuring Uhuru Peak (5,896m). If you feel up to completing this extra challenge, you'll enjoy coming close to the awesome ice cliffs and glaciers around the mountain's summit. After your adventures at super-high altitude, you'll descend quickly to Barafu for refreshments and down to your last camp Millennium (3,800m).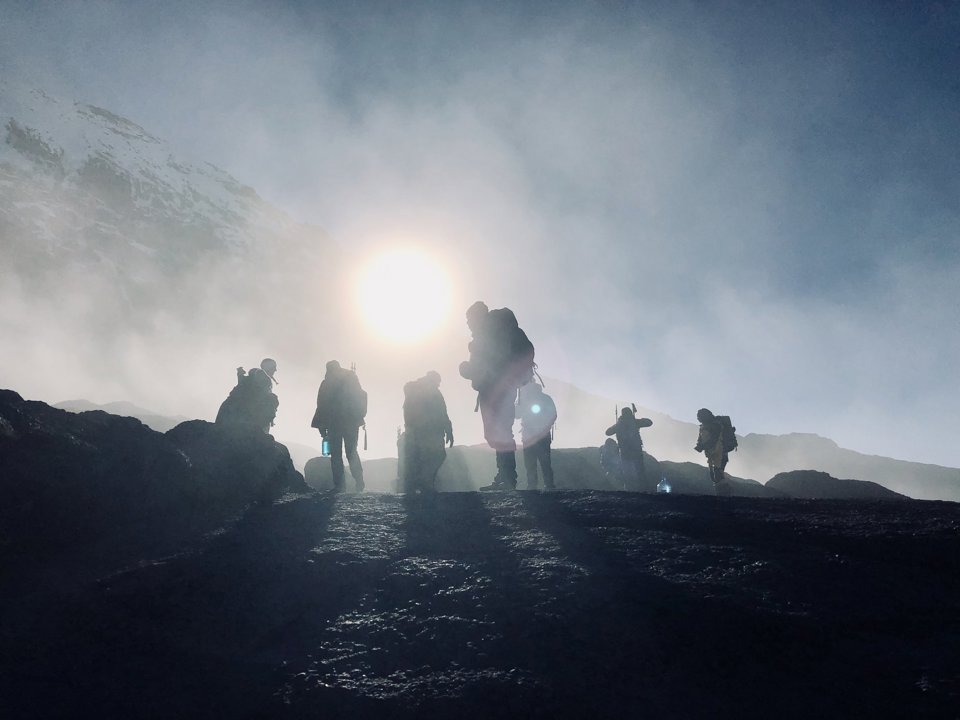 Day 8: walking time 4-6 hours
On this last day of the trek, you'll continue to descend. Your route is a firm path through tropical forest that's full of beautiful birds and vegetation. Eventually, you'll reach Mweka (1,650m), where you'll sign out from Londorossi National Park. For about 15 minutes, you'll walk through banana and coffee farms to the village of Mweka, where your vehicle is waiting. You'll be driven back to your accommodation, where you'll enjoy hot showers, cool beers, and leaping into the swimming pool!
Get in touch with our Africa safari specialists for further information and find out how you can also extend your tour with a safari trip to Tanzania.