Join YZ co-founder Rory Walker to take on Mount Kilimanjaro for the experience of a lifetime! Together you'll climb to the 'Roof of Africa' while raising vital funds in support of a charity called CLEFT.
This charity provides permanent and sustainable ways to improve cleft care both in the UK and overseas. YZ co-founder and director Rory is a trustee. CLEFT's Tanzania Kilimanjaro challenge follows a route up the mountain known as the Machame Route. Over the course of seven days, you'll trek alongside banana and coffee plantations, through the cloud level, and up to the snow-capped Uhuru Peak (5,895m).
Yellow Zebra Safaris is waiving all the usual fees so that CLEFT is able to use a better climb operator than charities would normally be able to afford. African Walking Company (AWC), one of the very best trek providers on Kilimanjaro, has been chosen to operate the climb. This is a great charity climb opportunity!
HOW DO I REGISTER?
Please contact CLEFT to arrange payment of your registration fee.
SPONSORSHIP & MONEY DEADLINES
| | | | |
| --- | --- | --- | --- |
| TOTAL % DUE | DUE DATE | AMOUNT DUE | TOTAL AMOUNT PAID |
| Registration Fee | Registration | $500 | $500 |
| 50% | 10 April 2019 | $1,700 | $2,200 |
| 80% | 10 July 2019 | $1,360 | $3,560 |
| 100% | 18 October 2019 | $340 | $3,900 |
**Children under 16 years of age need only $3000 in addition to the $500 registration fee. 
DETAILED TRIP ITINERARY:
Take your opportunity to reach new heights in 2019 and experience an adventure of a lifetime with a purpose! Find out more about the trip details below. 
19TH OCTOBER: ARUSHA
The fun starts here! You'll fly from your home origin airport to Kilimanjaro International Airport and transfer by road to Moivaro Coffee Lodge, our accommodation in Arusha. 
20th OCTOBER: WALK TIME 6-8 HOURS
Now it's time to begin our trek. From Arusha, we'll drive to the Machame Gate (1,800m) and start out traversing a ridge through a dense area of montane forest. In fact, this is Mount Kilimanjaro's most forested region, as well as the source of 96 per cent of Kili's water. It's gorgeously lush on sunny days, particularly during the dry season. But if there's been rain recently, we'll have to brave a lot of mud! By this point, we should be pretty peckish, so we'll stop for lunch at 'Halfway Clearing', a small site amidst the trees. Once refuelled, we'll carry on climbing, at a steady pace. The ascent will become easier as forest increasingly gives way to giant heather, and at this point we'll make out our second camp, close to the ruins of Machame Hut (3,000m). Depending on cloud cover, we might also get a clearer look at Kibo, Kili's spectacular glaciated dome!
21st OCTOBER: WALK TIME 4-6 HOURS
Today we'll have a shorter trek. We'll begin by clambering up a steep ridge with the aim of reaching Picnic Rock, a small and semi-circular cliff. It's a great spot for resting awhile and admiring views of Kibo and the rim of Shira Plateau. The next part of the route, walking to the plateau, is easier. We'll camp close to Shira Hut (3,840m), which boasts some of the most breathtaking vistas on Kilimanjaro! They include Kibo, Shira Plateau's thrilling rock formations, and even Mount Meru, its summit floating upon the clouds.
22nd OCTOBER: WALK TIME 5-7 HOURS
This day starts with a gentle climb, as we'll trek from Shira Plateau to the Lava Tower Junction (4,550m). The route involves the lava ridges that have formed underneath the glaciers of Kili's Western Breach. Following a well-earned lunch not far from the junction, we'll make for the floor of the Great Barranco Valley (3,900m). The valley is nicely sheltered by looming cliffs, and as we descend we'll enjoy views over plains below.
23rd OCTOBER: WALK TIME 4-5 HOURS
Having arrived in the Great Barranco Valley, today we face a steep climb up the Barranco Wall. Once we've accomplished this, we'll find ourselves on a winding trail on Kibo's south-eastern side. From here, the Southern Icefields are visible – another amazing sight! Our terrain in this area will chiefly be scree, with small quantities of verdant vegetation poking up from little hollows. It's just a short trek to Karanga (4,000m), where our next camp is based. Karanga is the final water point on our approach to Barafu via a slim valley. Luckily we'll have ample time to rest, and we could even try a short walk up the valley above camp to help with our acclimatisation.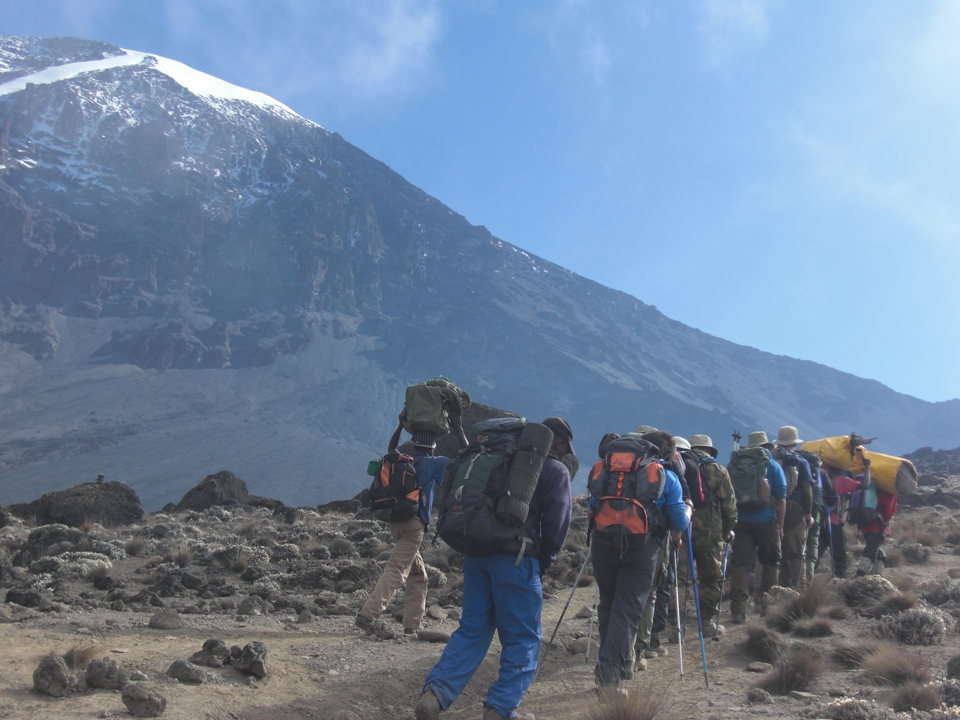 24th OCTOBER: WALK TIME 4-5 HOURS
Now it's time to leave Karanga. The climb out of this area is brief yet fairly steep, but the next part of our journey comprises an easy trail on scree that's well compacted. We'll be aiming for Mweka Junction (4,150m), enjoying wide views on our way. From the junction, we'll need to climb at a steady pace to get to the campsite at Barafu (4,600m), before continuing up to the plateau at the base of the South-East Valley (4,800m). Once at our camp, we'll be able to rest and to prepare ourselves for the following day's push to the summit.
25th OCTOBER: WALK TIME 11-15 HOURS
This is the most challenging day of our adventure! We'll begin a steep climb by torchlight at about 1 in the morning, with the aim of reaching the crater rim by sunrise. The terrain, made up of loose volcanic scree, is a bit tricky at this point, but fortunately there are some well graded zig-zags. Ascending in a slow and steady manner – think tortoise! – we should be able to reach Stella Point (5,735m) in approximately 5 or 6 hours. From here, we'll be blessed with the sight of the sunrise over Mawenzi – wow! Anyone who's up for it can opt to take a 2-hour round trip from Stella Point to Uhuru Peak (5,896m), along the crater rim. This is well worth the effort, as we'll pass close to the dreamscape of glaciers and ice cliffs that characterise a lot of the summit area. After that, we'll all descend to Barafu – a speedy part of the trek – where we'll stop for refreshments. Another descent brings us to our last campsite at Millennium (3,800m). This camp is flanked by beautiful forest, but don't be surprised if you're too tired to take in your surroundings until the following morning!
26th OCTOBER: WALK TIME 4-6 HOURS
Today we continue to descend, on a well-laid trail through forest. This is a particularly pleasant part of the route, featuring lush plants and joyous birdsong. We'll head down to the national park gate at Mweka (1,650m), signing out from the park and ambling for just 15 minutes through banana and coffee plantations to Mweka village. Here our vehicle awaits, and we can head back to [property], looking forward to a few creature comforts – showers, food and drink, and perhaps a dip in the swimming pool!
27th - 28th OCTOBER
Now it's time to head home. You'll fly from Kilimanjaro International Airport to your home state.
**We have limited spaces available, book your place today with CLEFT and really make your 2019 count!**