Rich in national parks and game reserves, and including the brilliant beach destination of Zanzibar, Tanzania has so much to offer the nature lover. When it comes to wildlife, the country is a real treasure trove!
Let's start with the famous Big Five – lion, rhino, leopard, buffalo, elephant. It is possible to see all of these in the Serengeti National Park and the Ngorongoro conservation area, both in North Tanzania. The Selous Game Reserve, in the south, has all five too, but it is unusual to spot rhino here. That's because they're a bit wary of humans and their habitat is mainly the very thick bush! There are no rhino in the national parks of Tarangire and Lake Manyara (north), Ruaha (south), and Katavi (west), but the other four massive mammals are in residence here, to varying degrees.
As well as lion and leopard, other members of the cat family may be spotted while you're out on game walks (where permitted) and game drives. Cheetah live in all the northern parks bar Lake Manyara, in the Selous and Ruaha, and in Katavi too. The Serengeti and Ngorongoro areas also contain a number of smaller species – serval, caracal, and (in Ngorongoro) the elusive golden cat, a truly beautiful creature!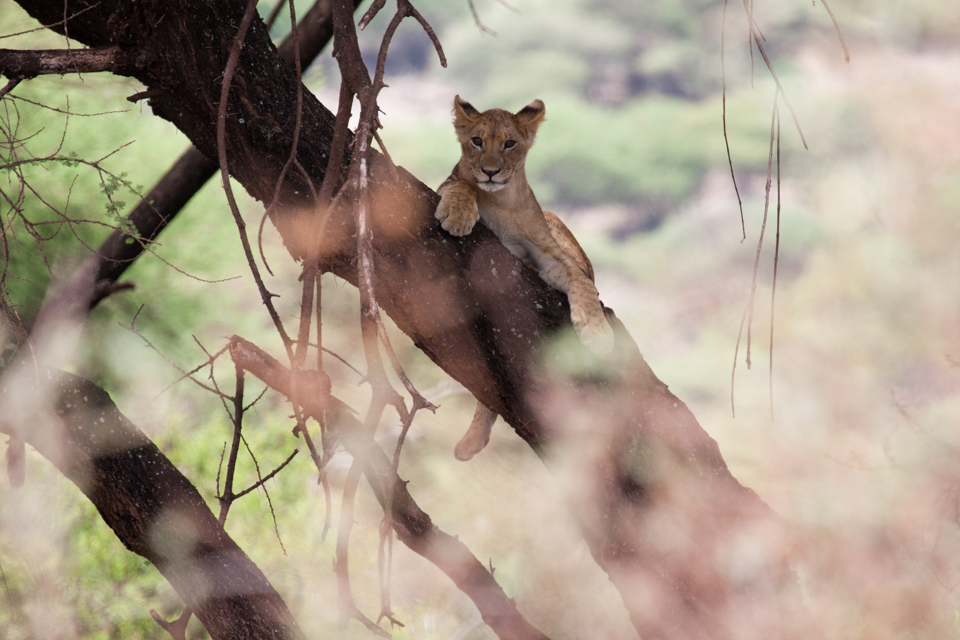 Sticking with the golden theme, the north of Tanzania contains some golden jackal, as well as black-backed and side-striped jackals, and other types of animals commonly listed as 'Dogs' – bat-eared fox, for example, and of course the African wild dog. Other meat-eaters you might spot in Tanzania include spotted hyena (most of the north and Selous), striped hyena (e.g. Serengeti), and carnivorans (placental mammals) such as civets and . If you embark on a walking safari, keep your eyes peeled for insectivores – African hedgehog and elephant shrew, to name just a couple of small bug-eating beasts!
The herbivore count in Tanzania is equally impressive. The Serengeti and surrounding areas host the Great Migration! For approximately six months of the year, there are huge herds of wildebeest, large concentrations of plains zebra, and good numbers of Grant's and Thomson's gazelles. These species are found in all other main safari areas of the country. There are giraffe too, in addition to bushpig, warthog, and hippopotamus. Fans of spiral-horned bovines – cow-like antelopes with twirly horns –will be thrilled to spot eland, bushbuck, and both greater and lesser kudu! The Serengeti is our top tip for this sort of animal, with Tarangire a close second.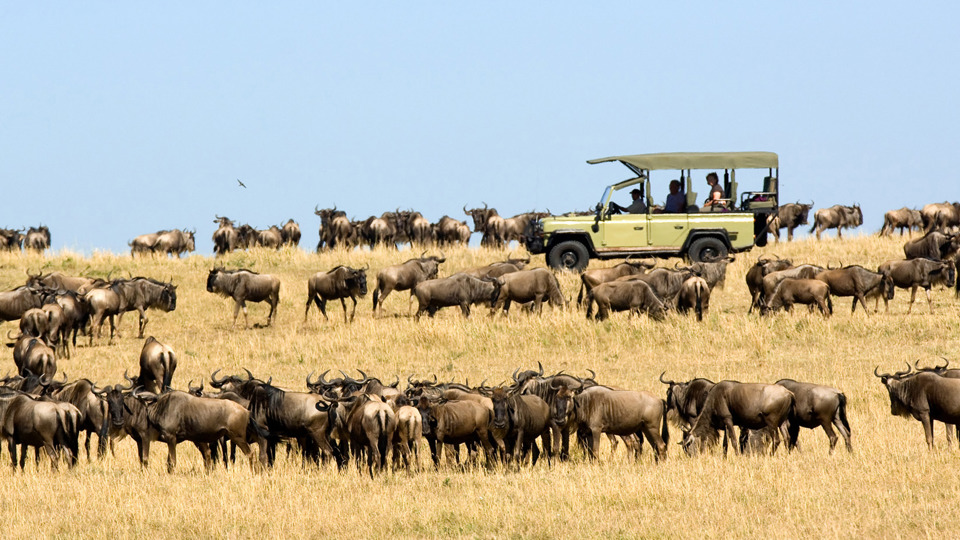 Overall, there's abundant antelope in Tanzania. Grey duiker, Kirk's dik-dik, klipspringer, Steenbock, oryx, roan, sable, the elegant long-necked gerenuk… the list goes on and on! There are Coke's and Lichtenstein's hartebeests, impala, topi, reedbucks, and waterbucks too. And if you're fond of rodents, you can look out for Cape hare, spring hare, and the jaunty crested porcupine! There's also an exciting variety of mongoose – slender, white-tailed, banded, dwarf – plus honey badger, bush hyrax, and the charming ground pangolin!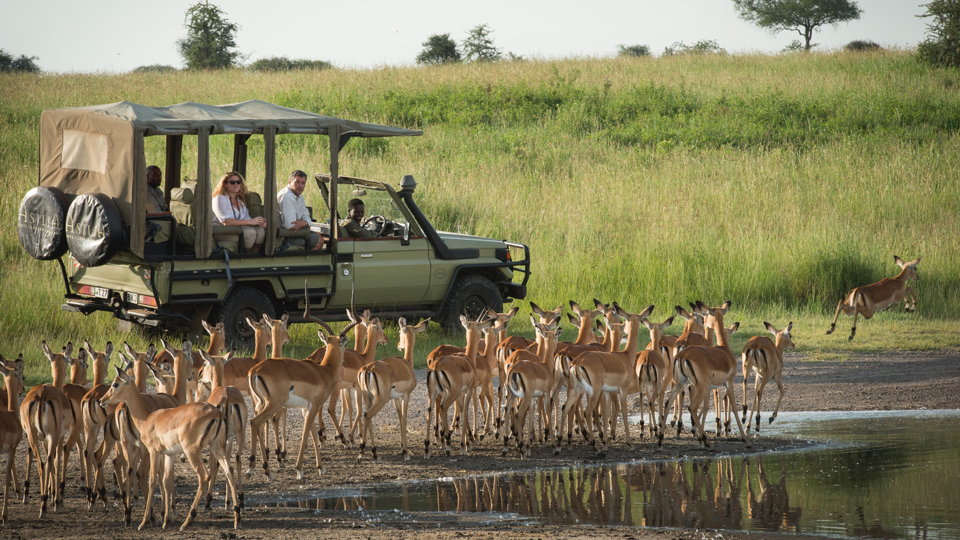 Before we move to survey the birdlife of Tanzania, let's look at the primates. From bushbaby to patas and vervet monkeys, from black-and-white colobus to olive baboon, these guys pop up in a few of the national parks. However, for a really great ape experience, head to the Mahale Mountains and meet the ancestors – chimpanzees! This is a very remote part of the world, and fairly expensive for a holiday, but a trip to Mahale, in the west of Tanzania, ranks as one of our top wildlife excursions; it really is superb.
Another dream destination, though for different reasons, is Lake Natron. This is not a Big Five area, and populations of mammals are restricted to just a handful of herbivores. However, if you're bonkers about birds, you are guaranteed a good time here! That's because, from November to April each year, the salt-and-soda lake is home to over 2.5 million lesser flamingo, the world's largest breeding colony!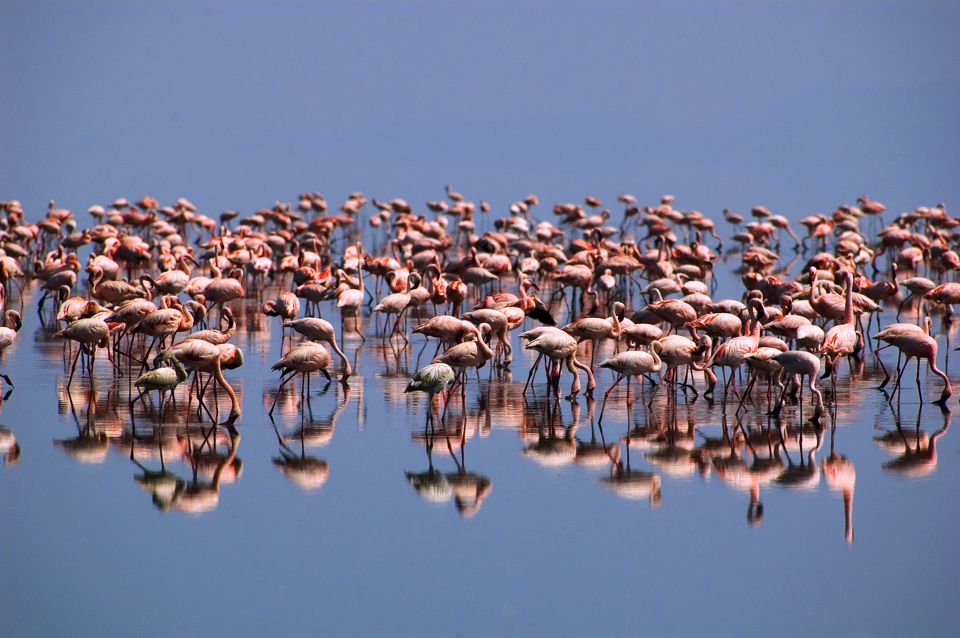 Birding elsewhere in Tanzania is pretty amazing too. You can see both greater and lesser flamingos in the north and south safari areas, in addition to a lot of other waterfowl. Avocets, bitterns, cormorants and shags, ducks and geese, herons, ibises, jacanas, kingfishers, pelicans, plovers, sandpipers, snipes, stilts, storks… parts of this country really are a birder's paradise! Many of the national parks contain abundant raptors too, as well as babblers, bee-eaters, bulbuls, canaries, crows, cuckoos, darters, doves, drongos, finches, flycatchers, francolins – and that's just the beginning of the alphabet! With individual park highlights including the crowned crane, secretary bird, and intriguingly named bare-faced go-away bird, we highly recommend that you remember to bring your binocs!
Ras Kutani, YZ's favourite place along the coast of the country, is ideal for spotting sea birds and you can venture into the inland woods to search for black-and-white colobus. Zanzibar, however, is the best beach location in Tanzania for viewing wildlife. There are 117 species of bird, among them falcons, flamingos, grebes, guineafowl, spoonbills, storks, rose-ringed parakeet, grey-headed lovebird, and the merry little laughing dove. The south-eastern area contains Jozani Forest, featuring dwarf antelope, blue duiker, bush-tailed mongoose, African and Indian civet, red colobus, and green- and hawksbill turtles. Zanzibar's north coast is home to a turtle sanctuary!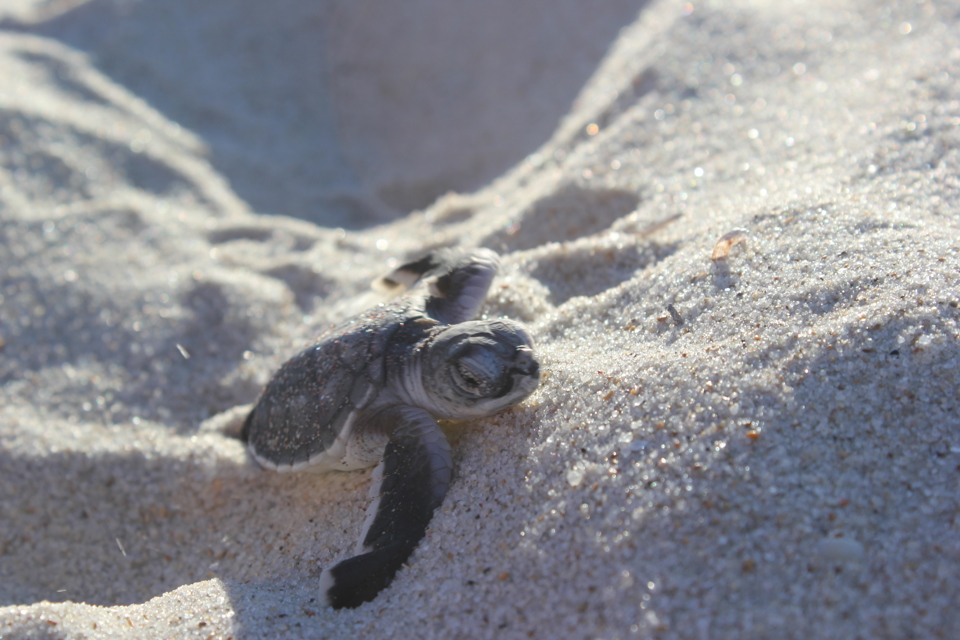 Tanzania really is first rate for wildlife watchers. If you're considering a trip to any of the big safari areas in this country, and you're keen on seeing any particular animal, just let one of our team members know. They'll be able to advise you on where to stay to ensure you get the best opportunities for viewing your chosen species!