YZ expert Kirsten chose to spend her honeymoon on safari in Zimbabwe - here she describes her experience of sleeping on the most luxurious train in the world, witnessing the 'Smoke that Thunders' and then her adventure in Hwange National Park. 
Getting married was one of the most exciting times of my life – yes, I know you have heard it all before, but I was beyond excited when I finally got to plan my own honeymoon after I had planned so many for my clients.
Deciding on a location was my first task, so I sat down with my partner and we chatted about all the things that we wanted to get out of our honeymoon, just as I would do with my clients. I must say, I was difficult compared with most of my honeymoon clients! My husband-to-be, however, was easy to please – all he wanted to do was see Victoria Falls and go on a safari.
I wanted to go somewhere I hadn't been before and I wanted to have an experience that I had not yet had before – honeymoons are always special, but I really wanted to do something different from the usual safari-and-beach trip. I decided that I wanted to experience more of Zimbabwe, as I had only ever been to Victoria Falls – also, at the time I had been chatting to my product manager, who is from Zimbabwe, and she completely sold the country to me!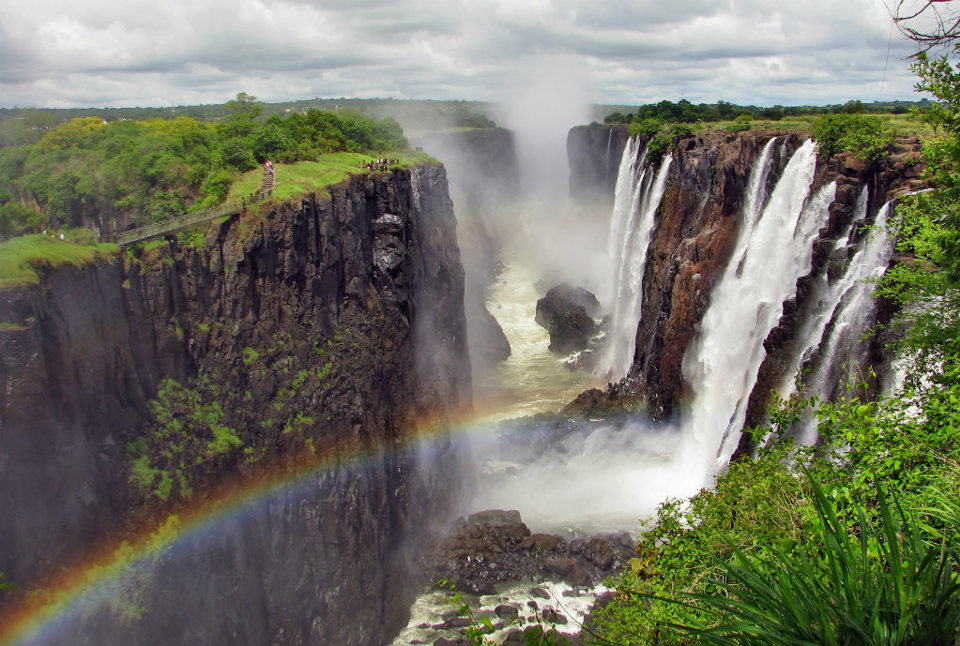 Rovos Rail had just announced that they were going to be doing a three-day train trip up to Victoria Falls from Pretoria – and their dates worked out perfectly with the start of our honeymoon. We spent a night in Pretoria, as the train leaves at 9am from the station and we didn't want to be negotiating Johannesburg traffic on the morning of our trip.
Arriving into the Rovos station, I was already impressed – our bags were given their Rovos luggage labels and we were told they would be placed in our suite. As more and more people started arriving, snacks and beverages were laid out for us while we waited. There was a short speech from the train manager to welcome returning guests and explain our exciting journey ahead. We all went outside to watch the train come in and were then escorted onto the train and to our suites.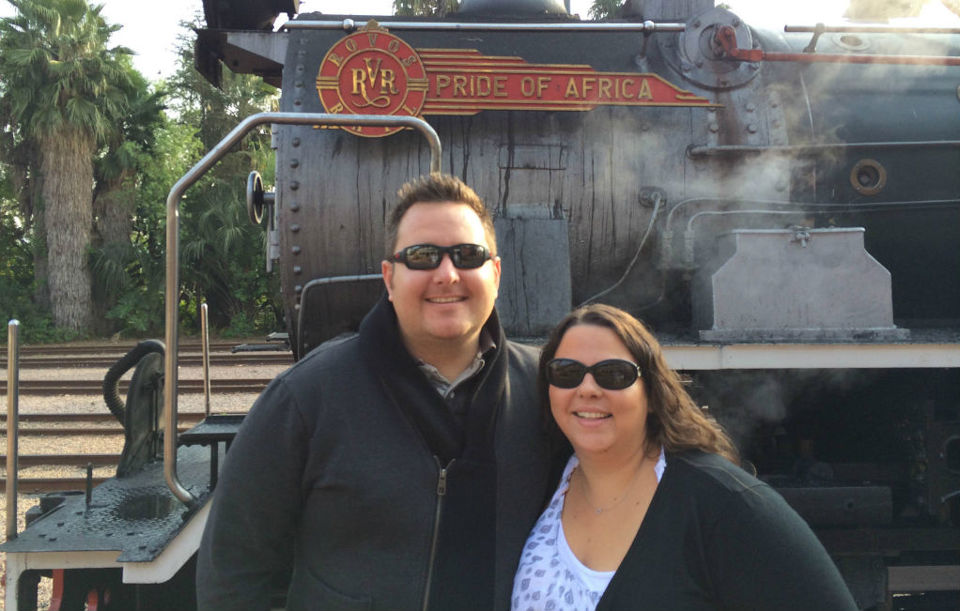 My new husband and I were exhausted from our wedding and we could not have planned the Rovos journey any better. We caught up on all the things we had forgotten about the wedding, including special moments that each of us remembered. I had been told by travellers on Rovos Rail that the food was just as much part of the journey, and man they were right – we ate like kings and queens, with full breakfast spreads to three-course lunches and five-course dinners. All of the lunches and dinners were paired perfectly with wines by the sommeliers on board the train to make this a truly superb culinary experience.
I was adamant that I had to have pictures of me in my wedding dress on the most luxurious train in Africa, so when everyone was taken on a farm tour my husband and I decided to stay on the train and have our mini photoshoot. What fun, having the whole train to ourselves – and yes, I was excited to get to wear my wedding dress again!!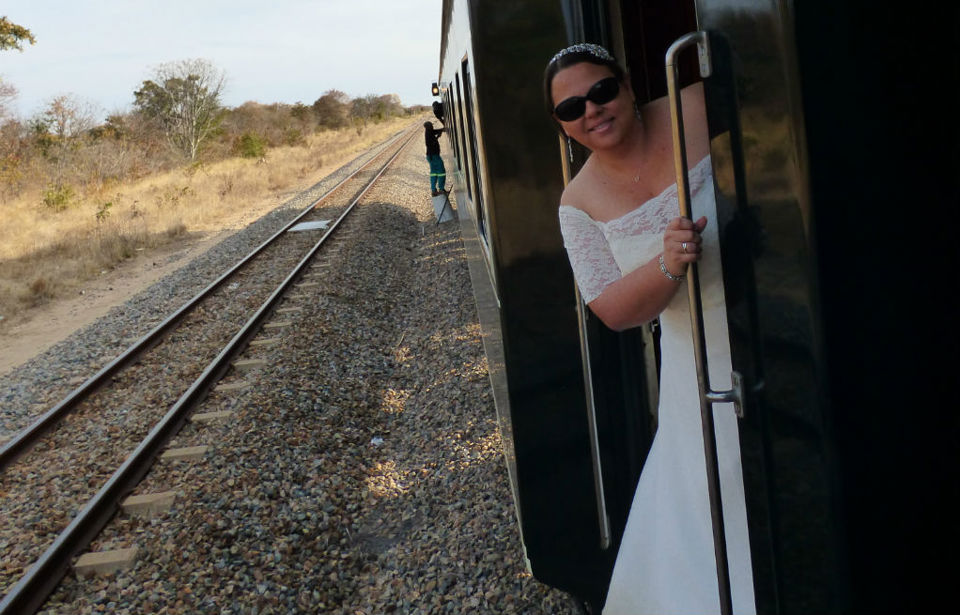 We had a welcome stop in Hwange National Park, where we disembarked from the train and hopped into our open safari vehicles for an afternoon game drive. This was a great introduction to safari – we got to see lots of wildlife, featuring elephant, giraffe and my favourite bird, the lilac-breasted roller. After our game drive, we were met with sundowners around a fire and some amazing snacks. Back onto the train, it was our final night and the dinner was a feast. We chose to stay in a Deluxe cabin – and I really think for longer journeys you do need a bit more space than Rovos Rail's standard Pullman Suites offer.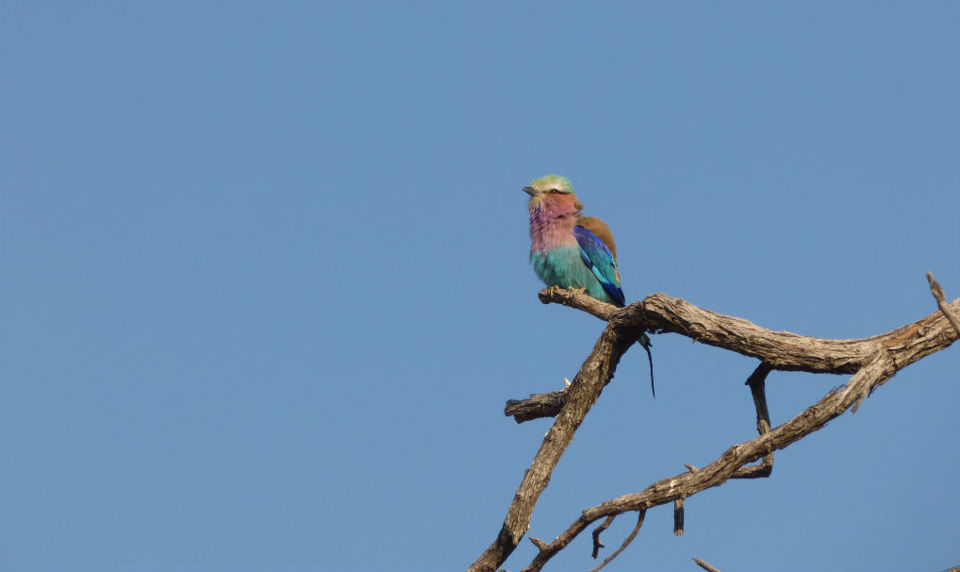 What an arrival into Victoria Falls – we were met by traditional African dancers and a red carpet leading into Victoria Falls Hotel, where we were staying for the night. It was a bit early to check into our rooms, so we stored our luggage at the hotel and took the short walk to the Falls. You can hear them before you seem them – and the excitement was building. We spent the next 2 hours taking far too many photos and videos of the Falls – we got soaked as we walked through the rainforest, but as it was so hot no sooner were we dry again. Later that afternoon, we did a 25-minute helicopter tour of the Falls – this is something that I would recommend to everyone who visits. From the ground you get up close with the Falls, but to see it from the air you actually realise the sheer size of what you are looking at. This truly blew me away!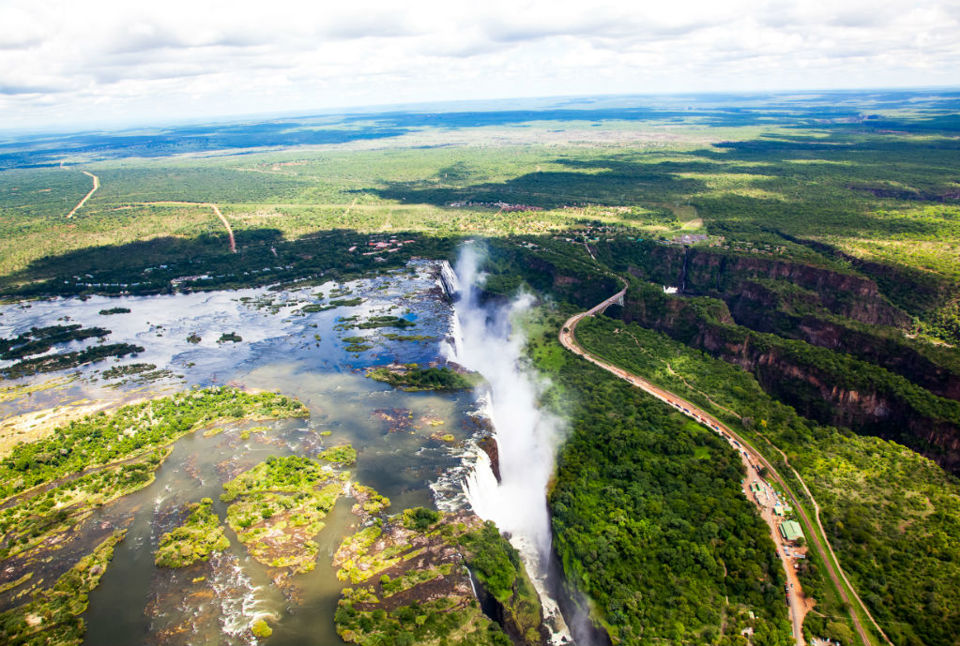 Returning to Victoria Falls Hotel for the evening, we were shown to our room. We booked a Junior Suite, which has an amazing view of the famous bridge. The suite was very impressive and had a really luxurious feel with its twin showers, huge bath and four-poster bed to complete the look. The grounds of the hotel are very well kept and have amazing views of the spray from the Falls and the bridge. There are also three warthogs who happily graze on the lawn – maybe that's the Hotel's trick to maintain their impeccably cut grass ;)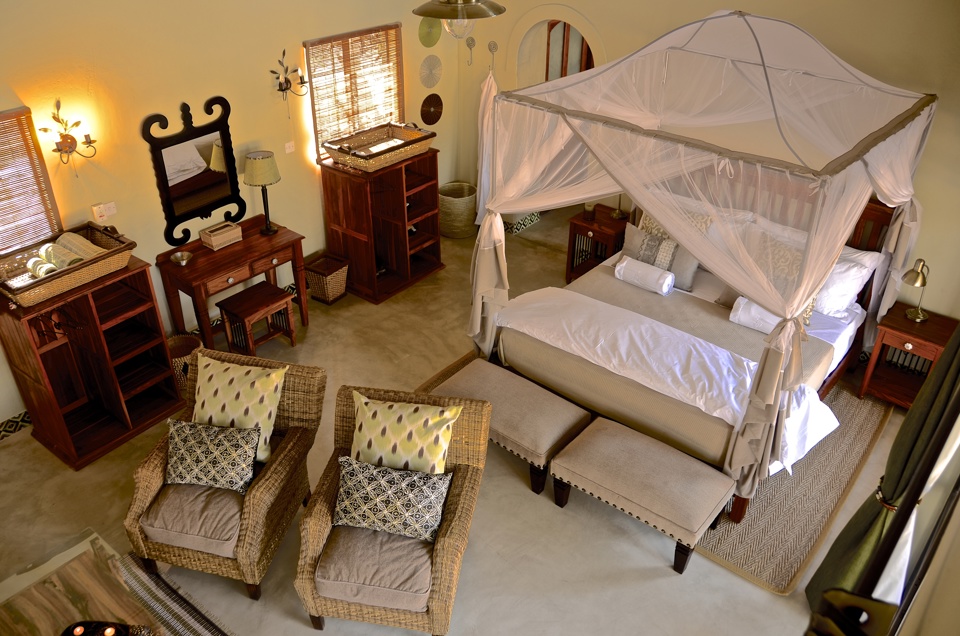 From Victoria Falls we transferred to Hwange for our stay at Camelthorn Lodge, which is located on the edge of the Ngamo Plains in the south-east of the park. Our Forest Villa, as they call the rooms, was exceptionally spacious and with a spiral staircase on the outside leading up to the outdoor lounge area. We spent most of the afternoon relaxing on the hammock before our game drive, watching the moneys and birds in the trees. Our game drives were incredible. I would be writing for days if I went through all the animals we saw, so here are a few of our highlights. We saw lions on a hunt – sadly they were unsuccessful, but by the looks of their stomachs they were just being greedy! Hwange is well known for its elephants and we were not disappointed – we saw thousands of them everywhere. And we sat with our sundowners watching a herd of wildebeests across the waterhole, walking past.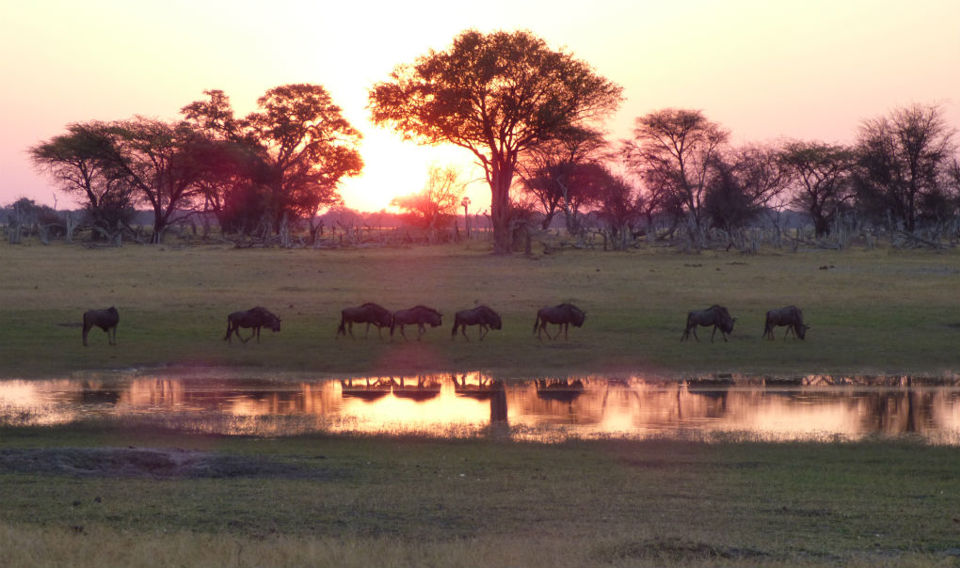 For our last afternoon game drive, we were told we were being taken somewhere special. We set out and stopped along the way to view animals we had not seen on the previous drive. Finally we got to a watering hole, and there was a hide that they had built into the ground. We all got out of the vehicle and we were taken into this container that had a cut-out of the side facing the watering hole. We were eye level with the ground and our guide said to us, "Let's be patient and wait to see what comes down to drink" – and not 5 minutes later, a breeding herd of elephants had come down to drink! If you think we took a lot of photos at Victoria Falls, this took it to a whole new level – trying to get a bit creative we were snapping shots as the elephants were spraying water from their trunks or taking a pic of just an elephant foot, with no zooming needed! I had never been this close to a wild elephant – and my gosh, is it a thrilling experience!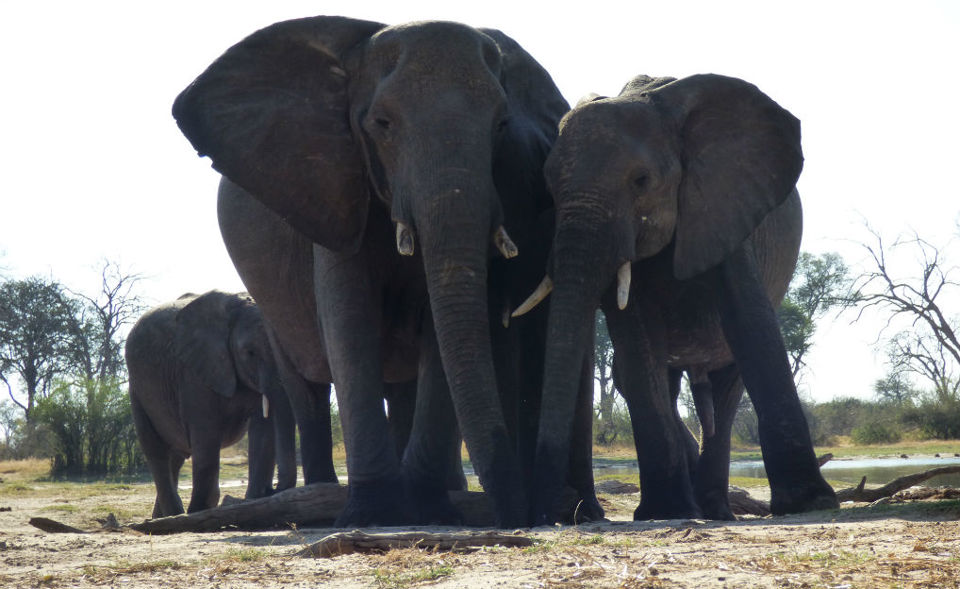 We really did not want to leave Hwange, but parting was less painful than it might have been, as we were off to Matobo Hills to stay at the very special Camp Amalinda. I had seen pictures of the lodge and it looked nice enough, but until you are there you cannot believe how stunning this lodge is. We got to track black and white rhino on foot and saw seven in total – what an experience! We also went to visit Cecil John Rhodes' tomb, which is known as "View of the World", and this was one of the most spectacular views I have ever had during a sundowner!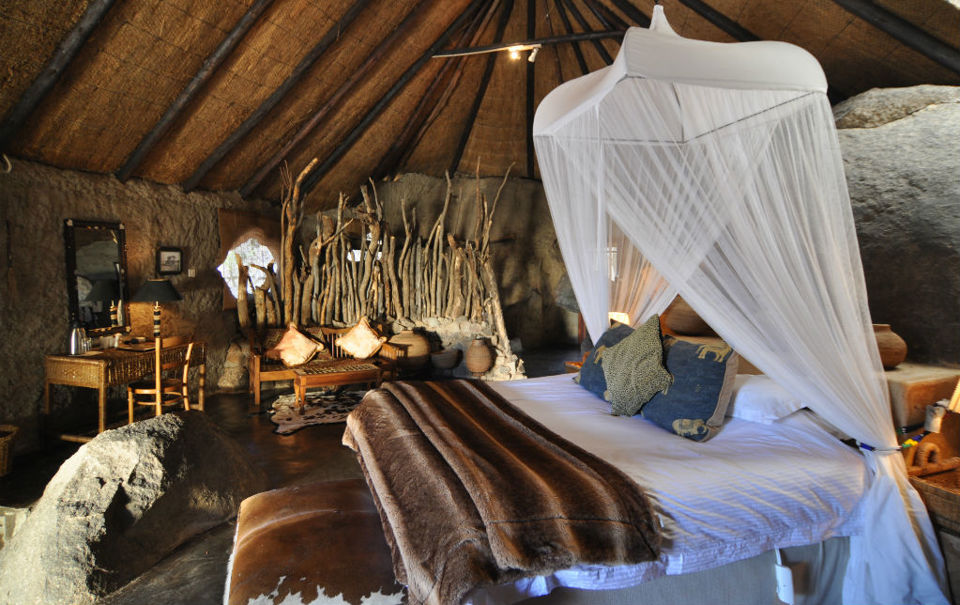 The last day of our trip, we decided to take it easy and just relax at the lodge. The swimming pool was far too inviting to ignore and so was our suite with our own private viewing deck – this was the perfect end to our honeymoon!
If you'd like more information on planning an adventure honeymoon or a safari to Zimbabwe, feel free to call us on +44 (0)20 8547 2305 or send us an email at [email protected]