Embark on this 8-day adventurous trekking trip to Mount Kilimanjaro via the adventurous Rongai route and enjoy a truly unforgettable experience.
Detailed trip itinerary: 
Coming in from the east, Rongai is our recommended route for trekkers considering a challenge! Offering extra hours at high altitude, it also provides more than a few viewing highlights, not least sightings of black-and-white colobus monkey.
Day 1: walking time 3-4 hours
Following registration at the Marangu national park gate, you'll transfer to Rongai in readiness for your trek up Mount Kilimanjaro. Beginning from Nale Moru (1,950m), you'll take a winding track through maize and potato fields and into pine forest. At this stage, the path starts to ascend, slowly but surely, amidst pine and other trees supporting a wealth of wildlife. Among the species you might spot are the Kilimanjaro colobus monkey, whose black coat contrasts strikingly with a flowing fringe of white hair and a long white tail. Once the forest has thinned out, you'll make out your first camp, Rongai One (2,600m). This camp is situated just within Mt Kili's moorland zone, and it has amazing views over Kenya's plains!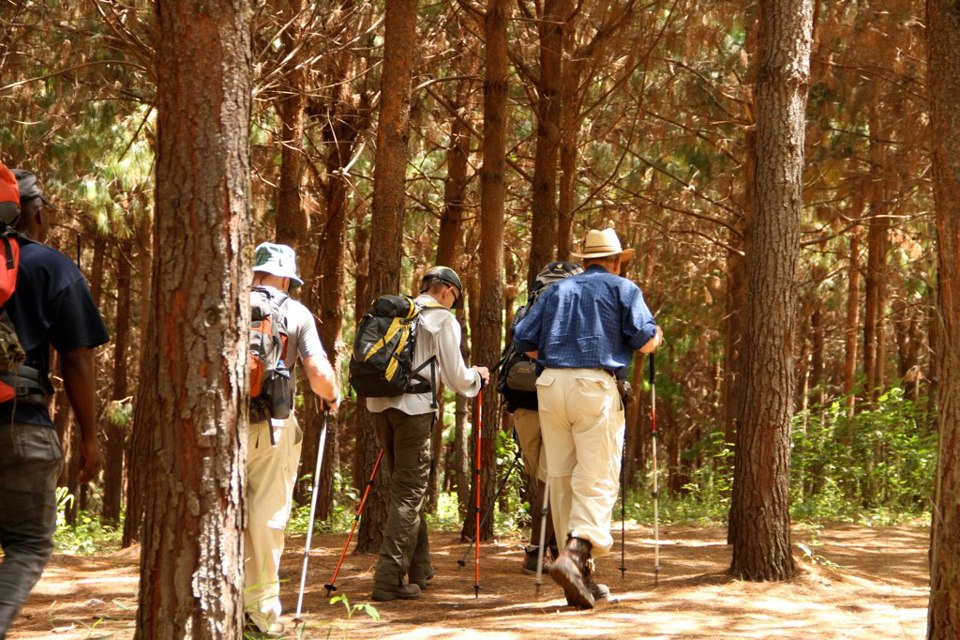 Day 2: walking time 6-7 hours
This day starts with a steady climb towards the mountain's 'Second Cave' (3,450m), a feature offering breathtaking vistas of Kibo (Mt Kili's highest volcanic cone) and the Eastern Icefields. You'll stop at the cave for lunch, before heading over the moorland, having left the main trail. The moorland path is quite small and leads towards the rough-hewn peaks of Kili's second-highest cone Mawenzi. You'll camp close to the Kikelewa Caves (3,600m), in a pleasantly sheltered valley full of giant senecios (ragworts).
Day 3: walking time 3-4 hours
Further spectacular views are on offer once you've reached your next camp, at Mawenzi Tarn (4,300m), after a short yet steep ascent through vegetation. The tarn is located underneath the impressive spires of Mawenzi, within a cirque (a half-open steep-sided hollow). Once you've arrived, you'll be able to spend the afternoon resting or walking around the area, acclimatising yourself before the trek continues.
Day 4: 
Day 4 offers further opportunities to acclimatise, in the form of a walk up to the 'Saddle' between Mawenzi and Kibo, and towards Camel's Back. You'll return to camp at Mawenzi Tarn (4,300m).
Day 5: walking time 5-6 hours
Returning to the Saddle, you'll traverse this lunar landscape, reaching the campsite at Kibo (4,700m), which is positioned at the foot of Kibo's crater wall. You'll spend the rest of the day relaxing and generally preparing for the final push up to the summit. Prep will involve heading to bed very early, in readiness for the next day's 1am start.
Day 6: walking time 11-15 hours
The last part of the ascent begins at 1am as scheduled, by torchlight. This is without doubt the steepest climb, so your progress will be slow up the mountain. You'll use a switchback trail through loose volcanic scree to get to the crater rim at Gillman's Point (5,685m). This point is perfect for watching the sun rise over Mawenzi! Afterwards, you'll have the option of an additional 3-hour round trip to Uhuru Peak (5,896m), an excursion taking you close to the awesome ice cliffs and glaciers around the summit region. Once you're ready to head down the mountain, it's a rapid descent to Kibo (4,700m) and, after some well-earned refreshments, to your camp at Horombo (3,720m).
Day 7: walking time 5-6 hours
On the final day of your trek, you'll descend at a steady pace through moorland to Mandara Hut (2,700m), which is the first camp on the Marangu route. Following a brief rest, you'll continue the descent on a firm path through beautiful forest. This path brings you to the national park gate at Marangu (1,830m) and to your ride back to your accommodation, where you can relax with showers, beers, and splashing about in the swimming pool!
Get in touch with our Africa safari specialists for further information and find out how you can also extend your tour with a safari trip to Tanzania.