Embark on this 7-day adventurous trekking trip to Mount Kilimanjaro via our favourite Machame route and enjoy a truly unforgettable experience.
Detailed trip itinerary:
YZ co-founder Julian's preferred route, Machame has a high summit success rate and amazing views! It begins in beautiful forest, ascending through moorland to Mount Kilimanjaro's high slopes and finally to the mountaintop, before returning through forest again.
Day 1: walking time 6-8 hours
On Day 1, you'll be driven to the Machame gate, and from here you'll begin the trek. The first part of your journey involves walking along a ridge through thick montane forest. In fact, this is the densest forest on Mount Kilimanjaro, and it's also the source of 96 per cent of the mountain's water! If you're here during the dry season or on a sunny day, the area appears particularly verdant. However, it can be pretty muddy too, if rain has fallen recently. You'll stop for lunch at 'Halfway Clearing', a lovely spot between the trees, before continuing the climb. The next section is less steep, with forest gradually giving way to giant heather as you approach the ruins of Machame Hut (3,000m), close to your first camp on the trail. If it isn't too cloudy in the evening, you might enjoy a view of Kibo, Mt Kili's highest volcanic cone.
Day 2: walking time 4-6 hours
There's less walking on the second day of your trek. You'll start by ascending a fairly steep ridge to a site termed Picnic Rock, comprising a small and semi-circular cliff. From here, vistas towards Kibo are breathtaking and you'll also spot the Shira Plateau! After a rest, you'll continue up to the plateau, on a gentler gradient. Here, you'll camp close to Shira Hut (3,840m), with spectacular views of Kibo, the plateau's own astonishing rock formations, and even Mount Meru, which from this vantage point seems to float on clouds.
Day 3: walking time 4-6 hours
This day begins with a gentle climb. You'll ascend from the moorland plateau to lava ridges underneath the glaciers of the Western Breach, all the while enjoying wonderful wide views. You'll have lunch not far from the Lava Tower junction (4,550m), before going all the way down to the floor of the Great Barranco valley (3,900m). This part of the route is pleasantly sheltered by tall cliffs and it boasts beautiful vistas of the sprawling plains below.
Day 4: walking time 4-5 hours
The following morning, you'll have a steep climb up the Barranco wall, aiming for a trail that undulates across Kibo's south-eastern flank while presenting amazing vistas over the Southern Icefields. At this stage, the terrain comprises mostly scree with little hollows of vegetation. It's a short walk to camp at Karanga (4,000m), which is situated within a narrow valley and the final water point before the route heads to Barafu. There'll be ample opportunity to rest at Karanga, and you could even take time for a brief acclimatisation walk during the afternoon, hiking up the area's valley.
Day 5: walking time 4-5 hours
The first walk of the day is a short yet steep ascent from Karanga, but this is followed by a much easier and gorgeously scenic path over compacted scree on your way to Mweka Junction (4,150m). Once you've arrived at the junction, you'll climb at a steady rate to reach the next stop, the campsite at Barafu (4,600m). After that, you'll ascend another couple of hundred metres to the plateau at the base of the South-East Valley (4,800m). This day also offers a few hours for resting and general prep for your final push up to the summit. You'll head to bed early, in readiness for your 1am start tomorrow.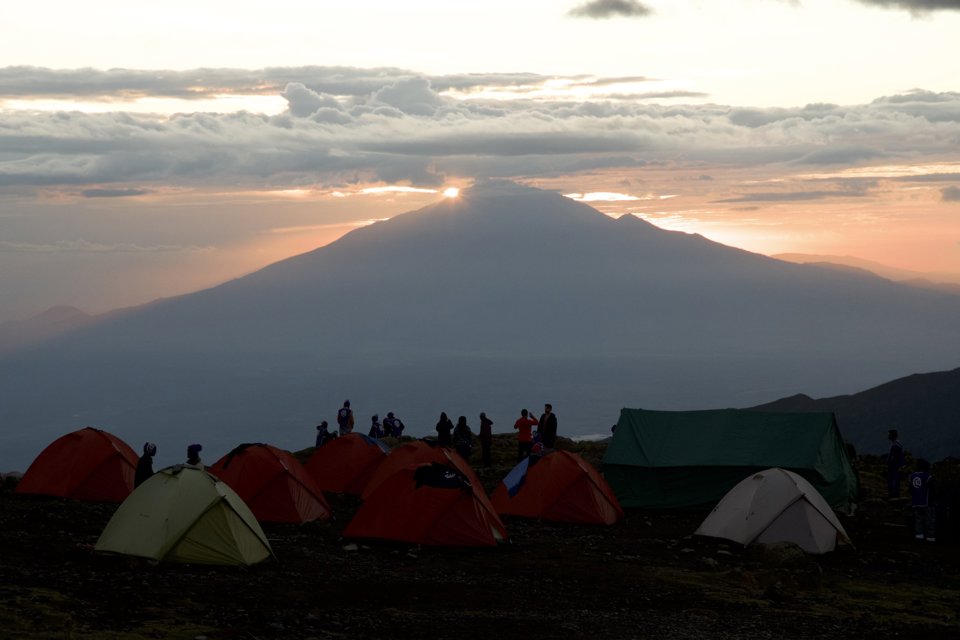 Day 6: walking time 11-15 hours
At 1am, the ascent begins, with the aim of getting to the crater rim in time to see the sun rise. You'll zig-zag across loose volcanic scree, by the light of torches. It's a steep climb, with five to six hours usually necessary for trekkers to climb to Stella Point (5,735m). The sunrise from the point is really memorable, well worth all your exertions! If you're not too puffed out at this stage, you can take up the offer of an additional 2-hour round trip from Stella Point, trekking along Mt Kili's crater rim to Uhuru Peak (5,896m). This route includes awesome ice cliffs and glaciers. Once you're ready to leave the heights of the mountain, it's a rapid descent to Barafu. Here you'll tuck in to some well-earned refreshments, before continuing down to your last campsite, Millennium (3,800m). This camp is surrounded by lush forest.
Day 7: walking time 4-6 hours
On the final day of your trek, you'll continue down the mountain, on an easy path. This path takes you through tropical forest filled with interesting and varied birds and plants. The journey ends at the national park gate at Mweka (1,650m), where you'll sign out and enjoy just 15 minutes' walking through banana and coffee farms to Mweka village. Your vehicle will be waiting for you here, and soon enough you'll be back at your accommodation, enjoying showers, beers, and jumping into the swimming pool!
Get in touch with our Africa safari specialists for further information and find out how you can also extend your tour with a safari trip to Tanzania.