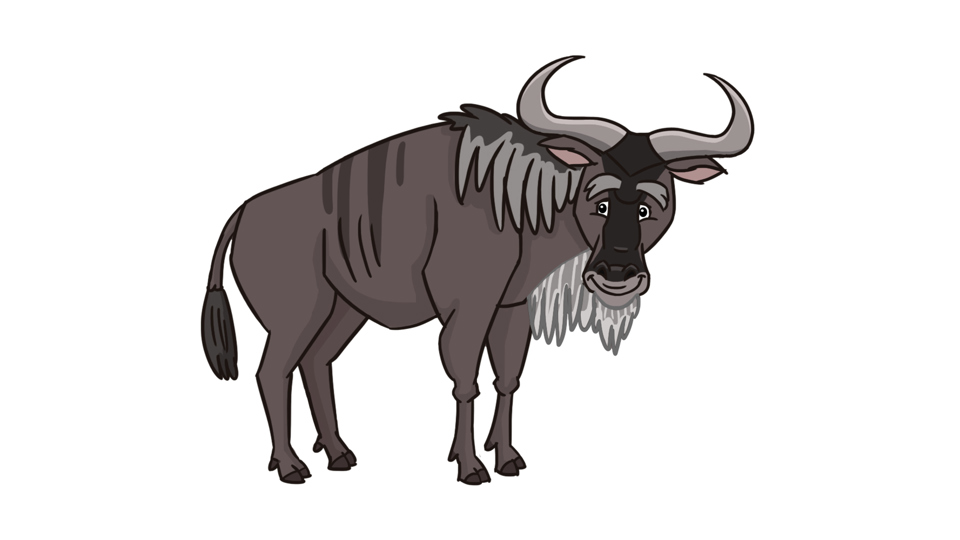 "Habari" (hello in Swahili) and welcome to my page! I am Wilay and I'm a wildebeest.
Now, my friend Zeb Zebra has asked me to tell you a few things about the wonderful country of Tanzania. I met Zeb and his friend Oki Oxpecker last October, in a park called the Serengeti. The Serengeti is just one of the areas on a route taken by hundreds of thousands of wildebeest, and zebra, and gazelles, every year. This route is called the Great Migration. We migrate to find food. It's very exciting to see.
The Serengeti really is special. It has plenty of plains – big grassy areas where we herbivores like to graze. A herbivore is an animal that eats plants, in case you were wondering. In some places, there are hills too – and some of these have rocks on top. And in the north, there are two rivers and some forests.
If you are hoping to see a lot of wildlife, the Serengeti is an excellent choice. As well as all the Great Migration herbivores, there are lots of big cats, such as lion, leopard, and cheetah. There are crocodile in the rivers and monkey in the forest. And there are loads of birds. You can enjoy rides out to see all these species, and some camps offer activities especially for children. Arts and crafts, films, games… lots of fun for you all.
Picture time! After I had shown Zeb and Oki the Serengeti, we moved east to the Ngorongoro Conservation Area. When you say "Ngorongoro", you leave out the "N" and the "n" – "Gorogoro". The Ngorongoro is a volcano, but don't worry – it won't blow up while you're here. The last time it erupted was over two million years ago, and scientists don't expect it to go up in smoke again for a very long time. When it last erupted, it blew its top off. BOOM!